3D LED Display
3D LED Display uses advanced technology of optical illusion. With its grasp and eye-catching approach, it'll surely leave your viewers in awe.
The 3D LED Display is another meaningful output of the overflowing advancement in visuals and optical phantom.
With its 3D effect, everyone will surely stop and give some time to watch its content, either information or advertisements.
The 3D LED Display has broad application scopes, primarily for outdoor installation; it is best for building-mounted applications or rooftops.
3D LED Display Product Categories
The inevitable development of various products, as part of the 21st-century technology revolution, is evident everywhere. With the bursting advancement, inventions keep innovating, and visual bizarre becomes the new norm when it comes to displaying. The 3D LED Display is tangible proof of this further advancement; with broad application scope, it tops entertainment, advertising, and commercial building around huge and thriving cities, entertainment capitals, etc.
The 3D LED Display commonly uses an outdoor LED screen since most 3D screens come in huge sizes. However, it is not doubtful that sooner or later, we will also use indoor screens like in museums, spacious exhibit venues, and many more. While it may require a huge budget, we have a 3D fan to also cater to small and local businesses and make their stalls more promising.
An outdoor screen has waterproof and dustproof features, making it very common for fixed 3D display installation.
A 3D hologram LED display comes in many sizes, and some may come in handy and with a lower price.
Are you looking forward to having a 3D LED display inside venues? Then an indoor LED screen is for you.
Rebrand Creativity, Arts, Videos And Digital Design
3D LED Display is your best partner in giving an all-out visual presentation for advertising or decorative purposes.
Strategic planning is vital to reach a valuable spot in the advertising media or for business advertising. It means putting efforts into advertising to target your prospects, including the use of digital media, visual displays such as LED screens in leading people to know and remember your brand.
Arts and creativity please the eyes and give us moments to remember better what we see. With a 3D LED display, people will never forget your content.
3D LED Displays support various video and content formats, not only videos but also texts, animations, images, etc.
Advertise And Customize Your 3D LED Display
3D LED Display comes in various sizes, installation methods such as hanging, building-mounted, wall-mounted, or on a rooftop; maintenance may also vary from front or rear or both depending on the space given.
If you want a crystal-clear 3D LED display, you should choose a smaller pixel pitch such as P4, P5, P6, to P8 for outdoor usage.
YUCHIP customizes your chosen size and estimates the area of installation, too.
Other than outdoor screens, we also have a 3D holograms fan LED display applicable for both indoor and outdoor environments.
Upon finishing manufacturing the spare parts, 3D LED Display undergoes various series of aging tests to testify its valuable optical resolution, effect, and visual impact.
YUCHIP:

Your Professional 3D LED Display Manufacturer And Supplier

YUCHIP is your recommended and well-trusted manufacturing partner when it comes to providing you the quality LED displays for various usages and applications. With 16 years of experience in delivering hundreds of countries, our expertise in the LED display industry continues to grow. Among our prominent LED display solutions is the 3D LED Display.

3D LED Display is applicable in different firms and social sectors such as advertising media, entertainment, tourism, transportation, public facilities, and many more. With its pleasing presentation, many people will get excited, comfortable, and amazed by it. It provides you not only entertainment but also some relaxation, awe, and various advantages.
Our Factory
3D LED Display Related Videos
3D LED Display Latest Catalog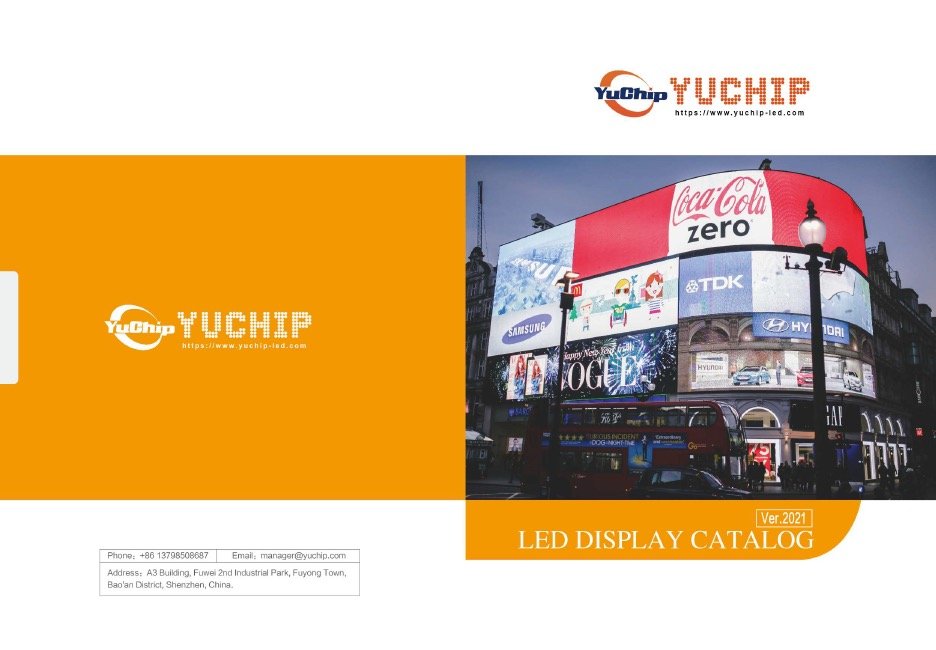 3D LED Display: Ultimate FAQ Guide
1. Introduction
3D or three-dimensional technology is a highly well-received technology in the world. As a matter of fact, there have been massive demands for various 3D electronic devices such as 3D movies, 3D mobile phones, 3D television, and 3D displays.
We, people, perceive our physical world as three-dimensional. And having 3D display technology allows us to perceive the displayed objects on screens in the same way we see them in the real world, so many considered 3D displays a window to the world.
Although the 3D display technology has been around since the late 1990s, it has only now become widely used in the business world and other industries. It includes the academe, fashion industry, architecture, gaming industry, etc.
2. What Is A 3D LED Display?
3D LED display is a digital display technology that creates the illusion of depth perception among the viewers of the LED screens by applying the principle of "stereopsis" or presenting a different image to each eye (left and right).
Because of the growing competition and increasing expectations from the audience, businesses always need to step up their games. Hence, the requirements for LED display screens continue to become demanding and challenging. And due to this continued pursuit to have new, fresh, and ingenious displays, 3D LED walls and billboards come to life.
One of the reasons why the 3D LED display is hot in the market nowadays is its ability to offer and provide a more efficient visualization of complex and high-dimensional pictures and objects, which is beneficial to its users.
The invention of 3D LED displays allows advertisers and businesses to showcase their brands and promote a more interactive way to enhance the visual sensory experience.
With the 3D displays, you are no longer limited to having traditional two-dimensional or flat-looking LED displays. You now have the power to create more immersive and eye-catching screen displays that will surely make you stand out from the rest.
3. What Is The Difference Between 2D And 3D LED Displays?
The key difference between a 2D and a 3D display lies in how we perceived the object flashed on the screen.
The 2D display usually seems flat and only uses two dimensions: length and width; hence it is called two-dimensional. On the other hand, the 3D display has a depth dimension, aside from the length and width dimensions which is why it is named three-dimensional.
This added dimension in 3D displays makes pictures or images look more realistic compared to 2D displays. 3D effects in large LED screens allow the viewers to have a fuller understanding of the displayed images. It makes the audience see into the spaces, notice the shadows and lights and their movements.
If you are okay with a flat digital display that delivers a high-quality visual experience, you may use 2D LED displays. However, if you want to give your audience more lifelike and realistic graphics, you may opt to invest in a 3D LED display screen.  
4. How Does A 3D LED Display Work?
The 3D LED display technology uses the combined newest LED screen panel manufacturing and software LED controllers to achieve the 3D effects on LED screens.
3D video for the LED screen has different grayscales of the pictures or images displayed.  It helps make the human eye produce a visual illusion to perceive the 2D displayed images to 3D.
If you compare a 3D LED display with a traditional LED display, you need higher software, hardware, product specifications, and requirements to achieve a high-quality LED display.
Additionally, computer technology lets the parallax between the left and right human eyes be converted into a 9-parallax image when processing the image display.
 5. What Are The Different 3D LED Display Applications?
Just like regular LED displays, 3D LED billboards also have various applications across various sectors and industries.
First, it may be used as a 3D outdoor advertising LED display screen anywhere. The goal of producing marketing videos is to attract views could pay attention to the content of your campaign. Therefore, having a highly immersive and attention-grabbing 3D digital display would definitely help you achieve that goal.
Compared to other digital displays and traditional LED video walls or billboards, the 3D giant LED screen has unique and improved communication value.  With its ultra-high resolution and dazzling graphic effects, it has a better visual impact on the audience. It brings out the "wow" factor in every advertisement you will show to your target viewers.
Second, 3D LED displays may function as 3D decorative screens to entertain and charm your viewers and audience during any event. It may serve as the centerpiece in your venue or welcome display fronting your guests and attendees. It is a perfect way to keep your audience interested and engaged throughout the entire program. You can use this 3D LED big display for video presentation, product presentation, etc.
These 3D LED displays, either as advertising screens or decorative screens, can be used in nearly almost every establishment that you may think of or own. That includes casinos, social halls, shopping centers or malls, (night) clubs, theme parks, museums, private or government buildings and offices, etc. 
The 3D LED display is versatile enough to be functional and applicable in any place mentioned above and more.
6. What Are Some Of The Best 3D LED Displays In China?
 (Photo source: AV Magazine)
The image shows an L-shaped 3D LED screen in China. It is installed above a retail establishment in the Sino-Ocean Taikoo Li shopping district in Chengdu. It is 900 sqm in size, 63.68m in length, and 14.336m in height, with a P8 pixel pitch value. This LED screen in the 3D model from LianTronics was featured in the AV Magazine in July of last year.
(Photo source: AV Magazine)
 The picture above is another breathtaking 3D Outdoor LED display in China. It is a trapezoid-shaped LED display screen in 3D designed to go with the building's exterior. This LED wall by Absen is 274.89sqm has transformed this newly constructed sales center of the new property development into a landmark.  This 3D naked eye is a perfect example of what kind of masterpiece you could create when you combine art and technology.
7. Where To Buy High-quality 3D LED Screens?
If you are looking for a reliable and well-reputed LED solution provider to work on your 3D LED display project, YUCHIP is a brand that you could trust.
We started in business in 2004, and we have been providing high-quality LED products and services worldwide since then.
YUCHIP has been utilizing the latest LED technology and manufacturing processing technology to ensure that all our LED solutions are new-fashioned and, of course, durable.
You may contact us today and tell us all about the 3D LED display project you have in mind. We have field experts and well-experienced engineers who will guide and provide you with professional support.
We are dedicated to providing every client and customer with a customized solution that considers their specific needs and requirements.
Send us a message if you want to learn more about our products and services. We are looking forward to serving you soon!
8. Conclusion
The 3D LED display is a product of combining the LED technology, and the art of installing a big screen led display.
It gives anyone who views it a visual experience that no other digital display can offer.
The 3D outdoor LED displays are so popular and admired they catch the attention of social media and the press. They are an example of exciting technology that we can expect to dominate the marketplace sooner or later.