Hospitality LED Screen
Hospitality LED Screen creates a good impression; friendlier, comfortable, and approachable feeling in an establishment.
A hospitality LED screen brings a closer-knit between the visitors and hosts in hotel premises, establishing camaraderie one way or another.
It sets a comfortable idea that makes your hotel, casino, restaurant a safe zone for tourists, travelers, and locals.
It shares and displays some quick guides for hotel bookings, restaurant reservations, traveling trivia, traffic guides, news updates, etc.
Hospitality LED Screen Product Categories
Hospitality LED Screen has a broad application scope from business premises such as hotels, casinos, restaurants, nightclubs, etc. While these establishments top the tourism profit in many countries, we also effort to give you, every traveler and locals, experience a digital apprehension through the LED displays.
The hospitality LED screens should deliver you an outstanding view of various content such as information guides, check-in schedules, traffic reports, promos, etc. It can also do commercial advertising. It enables everyone to learn about local food, famous spots, cultural diversity, traditional customs, and local brands and services.
Most hospitality establishments require an indoor screen. YUCHIP has various pixel pitches to meet your project; we have P3, P4. P5, P6, and P8, and we also customize according to your choice.
A creative display like a flexible screen awes the viewers evidently. Likewise, installing a flexible screen in a hotel, casino or restaurant will bring you more entertainment and more customers.
A transparent LED Display sets a classy and stylish climate. Its translucent property creates a glass-like impression, enabling you to see everyone in a specific setting, such as in a casino or a nightclub.
Bring An Outstanding Ambiance With Hospitality LED Screen
With the hospitality LED screen, you can attract more people to visit and stay on your premises, along with giving them the feeling of going back again soon.
Hospitality LED screens are electronic and digital LED displays specifically designed to bring out and beautify hospitality premises such as hotels, bars, casinos, restaurants, nightclubs, music areas, etc.
With the hospitality LED screen, you can advertise various brands and services, play music with a screen that alleviates and gives a strong impression for your business.
Customize Your Hospitality LED Screen
Choose your preferred pixel pitch, size, installation, maintenance, and parameters for your hotel, restaurant, nightclub, bars, and casinos.
Our indoor, flexible, and transparent LED screens have comprehensive options. Pixel pitches are as follows; P2, P2.5, P3, P4, P5, P6, P8, and customized.
We use quality LED lamps, cabinet material, modules, circuit boards, and other spare parts to ensure the steady performance and reliability of the LED product.
We choose the best logistics to help us deliver your order on time with no damage and issue.
YUCHIP provides a 3-year warranty, technical and online support to address any issues with the LED screen after-sales.
YUCHIP:

Your Professional Hospitality LED Screen Manufacturer And Supplier

YUCHIP has provided hospitality LED screens to numerous hotels, casinos, restaurants, and nightclubs worldwide in its 16 years of running in the LED industry. With our LED products reaching 102 countries and counting, we believe that your establishment might be part of our projects.

With our technical, marketing, and production team, we manufacture and construct the best quality LED display to help you leverage your business status and scenery. As hospitality LED screens are part of our constant technical advancement, this LED product contains advanced and foremost technology.
Our Factory
Hospitality LED Screen Related Videos
Hospitality LED Screen Latest Catalog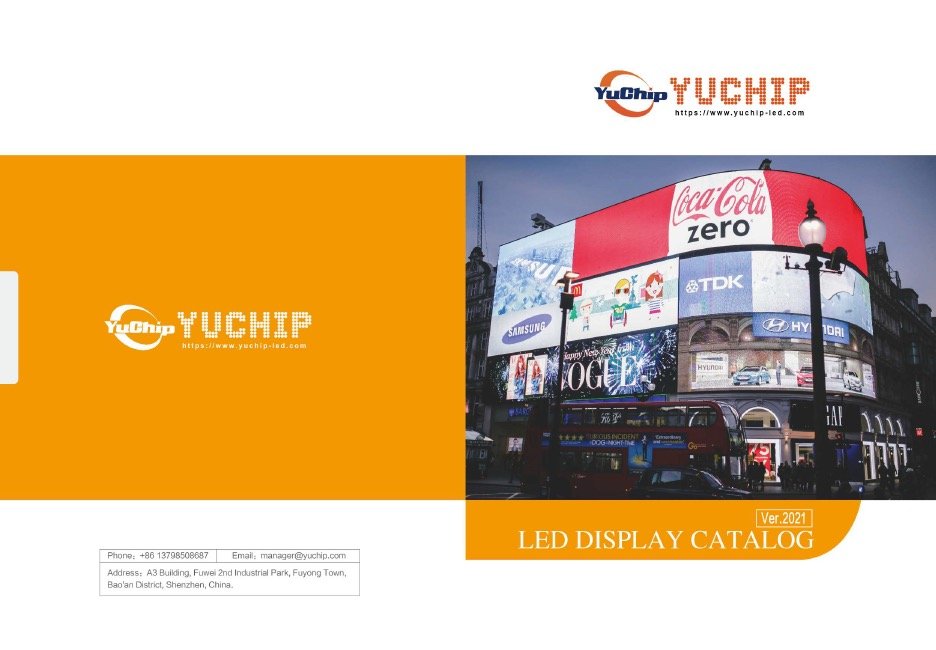 Hospitality LED Screen: Ultimate FAQ Guide
1. Introduction (What Is The Hospitality Industry?)
The hospitality industry is a broad business sector that provides customers with products, services, and enjoyable experiences that support people's recreation or well-being.
It includes entertainment, amusement parks, restaurants, hotels, casinos, clubs, spas, and other tourism-related businesses such as event planning, transportation, cruise line, and lodging.
This industry is considered a service industry that focuses on the leisure and pleasure of the customers.
Anything to do with accommodation, food & drinks, and travel is part of the hospitality industry.
To simply put it, the hospitality sector is linked to enjoyment (customer satisfaction) and not necessities (basic needs).
When travel and other recreational activities are halted during the pandemic, the hospitality industry suffers much from loss and discontinuation.
The temporary closure of this industry has negatively impacted the world's economy.
This industry (although not considered essential) only proves that it is vital to keeping one's economy progressive and going.
2. What Is A Hospitality LED Display?
It is time to say goodbye to old-style signs that make your place look drab and outdated.
Hospitality LED display is a digital display technology used in various service and accommodation establishments to provide visual communication. It is an effective way to deliver bright, vivid content informing and engaging your customers.
When you are in the hospitality industry, you want to make your guests and customers (away from their homes). It would be best to create an inviting, comfortable, and warm ambiance to achieve this. And of course, you cannot forget the element of amusement and fun to keep your visitors entertained.
Hospitality LED screens are of great help in achieving this goal. LED solutions are viable for indoor and outdoor use in any hospitality business, which will make your space ten (10) times better. It will make your location look modern and more upscale while increasing your customers' visits.
The LED display technology will give your space a unique identity that will set it apart from the rest. Utilizing the newest display technologies available in the market is one integral strategy to meet today's customers' expectations.
3. What Are The Applications Of LED Displays In The Hospitality Industry?
For businesses with something to do with lodging and accommodation, like hotels and resorts, it is essential to have an environment that screams comfort, relaxation, and of course, pleasant and appealing.
Hotel digital signages allow you to provide your visitors and information and entertainment in a very modern and voguish way. A hotel with LED walls is seen as fancier and more top-class, making it more valuable and marketable.
LED display boards for hotels can also be used as outdoor hotel signs to make your place easier to find. Hotel LED signboards are very versatile and can serve various purposes. They can serve as a digital screen to welcome guests or a decorative screen to improve the venue.
LED hotel signs can be placed almost anywhere, and they will surely add character to the place. They are commonly placed in lobbies, conference centers, fitness centers, and other amenities guests can visit.
Restaurants and Cafes are businesses that should also invest in the way they decorate their place. Creating a more exciting and vibrant atmosphere contributes significantly to the guests' dining experience.
An LED display for a restaurant is customizable to match the look or theme you aim for your place. You can use it to play dynamic and creative video presentations to lure and entertain dinners.
LED screens for the restaurant also add flexibility to the places. The sharp and clear images it can produce are advantageous for you and the customers. Many restaurants are now using digital menu boards to improve the way customers look at them. These digital menus streamline the order process and boost your restaurant sales.
LED screen displays allow you to integrate your brand message and highlight some promotions that you may have.
Nightclubs and bars often look for a new and dynamic way to invite and entertain visitors. People do not go to bars and clubs to buy drinks and alcohol; many customers go there for the experience.
LED screens for a nightclub are very in demand these days as it helps boost the atmosphere of the place, which, in return, enhances the customers' experience.
Nightclub screen visuals are what separate one club from others. The nightclub LED wall, for example, can be used to deliver visual displays that will engage and excite the customers more.
The nightclub DJ booth or DJ booth LED screen is also one of the most popular display technology solutions for these businesses since the DJ booth has become the center of attention. The DJ LED screen wall is the most eyed LED display in bars and clubs. You can use it to deliver an immersive club environment- wowing all bar and club-goers with visuals and imagery that are playful, bold, and colorful.
Gaming and casinos are some of the establishments that customers expect to be modernized and stylish. They often advertise experiences that guests cannot find elsewhere. Therefore, to stand out from their competitors, they display more attention-grabbing and more spectacular solutions than any other.
LED screens for casinos are beneficial in almost every part of the place. As part of their designs, you can often see LED screens in the casino's ceiling, walls, entrance, floors, etc. It is one way of providing the visitors with a one-of-kind experience that will make them come back or contribute to word-of-mouth advertisement.
LED displays in gaming and casinos also allow owners to deliver messages and promote different brands. It can be utilized as an informative screen, decorative screen, or even an interactive screen that visitors can use.
Other Tourist Attractions
Other tourism sectors can apply LED displays to perform various functions. Whether it is to inform or deliver messages or decorate the place with modern screens, LED display technology is applicable.
Attractions like theme and amusement parks, observatories, and gyms benefit from embracing LED display technology. The best thing about digital LED displays in any location is that they are customizable and easy to use. You can modify and customize its content to provide your customers with timely content suitable to their needs.
By incorporating visual display, you can keep the audience entertained while waiting for their seats or turns.
4. Conclusion (Why Should I Choose YUCHIP's Hospitality LED Screen Solutions?)
YUCHIP is a trusted LED manufacturer and supplier for hospitality environments and settings.
We offer complete LED solutions for various applications like hotels, restaurants, nightclubs, casinos, amusement parks, gyms, etc. We custom-made solutions according to whatever needs or requirements your place may have.
We have been a leading and well-reputed LED provider in China since 2004. We deliver quality LED solutions and services to almost 104 countries worldwide.
If you want a reliable LED display solution for your place, do not forget to contact us and tell us all about your LED vision and dream. Our highly professional and trained engineers and personnel will help you realize that dream.
We take pride in our first-class LED products and services. All our LED screens undergo strict quality checks to ensure that products deliver nothing but excellent performance. To learn more about our products and how we can help you, you may send us a message today, and we will get back to you in a few days.