LED School Sign
LED School Sign gives you a more attractive view in posting school-related information and announcements.
An LED school sign gives you a more appealing atmosphere during school gatherings such as recognition and graduation ceremonies.
Also, displaying announcements, school bulletins, and other school-related endeavors becomes more accessible and convenient.
For educational film showing and flashmob, school concerts, intramurals, all of these need an LED school sign.
LED School Sign Product Categories
LED School Sign is another milestone we've embarked on in the field. We have served multiple business firms from local and international platforms. Now we're running a mile to get through your schools, universities, colleges, institutes, etc., to rebrand the LED display perception.
LED School Sign can be either an indoor LED screen applicable for indoor ceremonies and gatherings. Good for school bulletin, announcements, message boards, etc. An outdoor LED screen alongside best fits sports gatherings in a school's track and field, sports courts, stadiums, outdoor school programs, beauty pageants, school fashion shows, and many more. For theater events, stage performances, film shows, an HD screen is a great deal.
An indoor LED screen has various pixel pitches ranging from P2.5 to P8 to meet your desired requirement for your LED project. With a refined resolution and basic color features, it'll bring you a perfect viewing experience.
An HD LED Screen is perfect for your closer viewing; it has a small pixel pitch and clear resolution. The high-definition display comes from a high refresh rate, low brightness, flicker-free display, and high-quality LED lamps.
Distant viewing, crowd events, sports, and intramurals, an outdoor LED screen presents you with a more precise overlook and view of the event with various installation options perfected with IP65 features- waterproof and dustproof design.
Share Quick School Bulletin In An LED School Sign
Sharing school information becomes easier and convenient with the LED School Sign.
Use an LED school sign at the school gates to attract students and give them a positive impression of the day.
Share quick information such as school announcements, school programs, schedules, examinations and project deadlines, etc.
Play educational content and entertain students while having their break time, while reading magazines, or chitchatting with friends.
Customize Your LED School Sign
An LED school sign can be an indoor display, outdoor, or HD LED display with wide pixel pitch options.
For crowded events such as graduation or recognition, an outdoor display is ideal. At the same time, for theater, stage performances, and other indoor school programs, you can choose either an indoor or an HD LED school display.
We use quality LED lamps, modules, PCB, LED tapes, and cabinet materials to ensure the best and steady performance of your LED school sign.
YUCHIP:

Your Professional LED School Sign Manufacturer And Provider

YUCHIP is a professional LED school sign provider with two decades of service in the LED industry. Our technical and manufacturing team consists of highly skilled individuals, professionals, and business enthusiasts that help construct ideas and build the blueprint of an LED product.

We provide to hundreds and thousands of business firms, and it's time to take a good turn to serve educational institutions in helping to hone the future professionals in the world. With our LED school sign, we commit to beautifying, giving out digital technology, and bringing art and creativity to schools, colleges, universities, and other educational centers.
Our Factory
LED School Sign Related Videos
LED School Sign Latest Catalog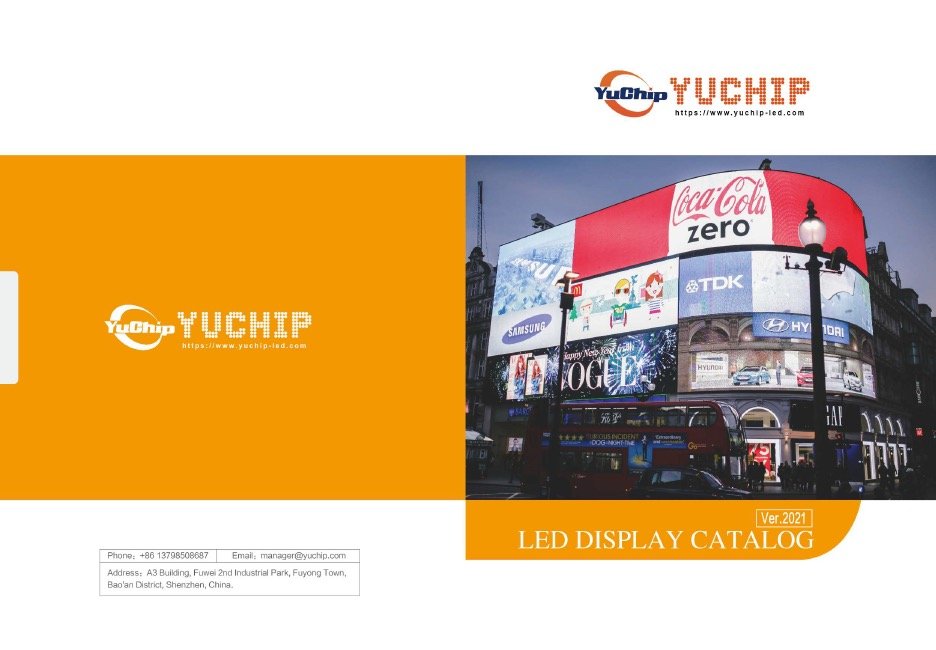 LED School Sign: Ultimate FAQ Guide
1. Introduction (Why Do Schools And Universities Use LED Screens?)
The world that we live in today is different for the better. We are now living in a digital world where technological advancement is prominent.
This modernization has changed the way we live our lives and do things. As the world progresses and continues to move towards modernity, the need for a more timely and relevant education is essential for schools to remain pertinent.
More and more schools worldwide are now considering technology as a necessary part of education. As early as elementary, students are taught about computer and information technology as part of the 21st-century curriculum.
Of course, these changes and development in education should not only happen within the curriculum. The physical/learning environment of the school should also incorporate various technologies for the students. One simple and efficient way to do it is to use LED screens and school signs.
Hence, schools and universities are expected to always keep up-to-date with the latest trends in teaching, facilities, and technologies to accommodate the needs of today's learners and future generations.
2. What Is An LED Screen For Education?
LED screens for education, otherwise known as LED school screens and school signs, are multimedia screens used by the school management to commute and send messages to various stakeholders.
Communication is a crucial element in any organization, including the education sector. Education institutions have a growing need to improve communication, especially now that we are digital and students are now digital natives. Consequently, using different communication technologies is necessary to keep the younger generations attracted to going to school.
LED school screens are the best way to disseminate information with minimal effort as they are often situated where the crowd gathers or passes by. Additionally, their ability to display bright and colorful images and animation can effectively grab the audience's attention.
LED screens are multifunctional as well. They are helpful as a communication channel, but they are also effective in enriching and enhancing the learning environment for everyone. You will learn as you continue reading how digital signage for schools can be beneficial.
For many universities, water-resistant digital screens are a popular solution for electronic LED signs for school needs because they can deliver their purpose regardless of the weather condition.
3. How Schools And Universities Can Benefit From LED Screens?
Students, teachers, parents, visitors, and school administrators, can benefit from using LED screens.
LED screens for schools can be a worthwhile investment as they can serve many purposes. Here are some of the ways LED screens can be of great help for everyone involved in schools and universities:
LED screens may serve as the information or school message boards. Outdoor LED signs for schools are an energy-efficient solution to update the students and faculty about upcoming events, seminars, reminders, etc. You may edit the LED school screens anytime to display important announcements in real-time. It is the easiest and fastest way to inform everybody inside and outside the school about school-related activities and emergencies.
LED screens may serve as digital advertising boards outside the school premises or in a gymnasium or sporting center. You can use it to promote fundraising events, partner brands, and other businesses relevant to education. The advertising screens may generate an additional revenue stream for school owners.
LED screens may serve as digital display screens in different school facilities such as classrooms, laboratories, offices, gymnasiums, etc. These LED screens encourage modern and advanced school spirit to improve students' and teachers' learning and teaching experiences. Digital school signs/screens are a handy tool to inform and entertain today's students.
LED screens may serve as decorative screen displays around the campus. Suppose you wish to add entertainment value to your school. In that case, large-format interactive LED screens may impress the currently enrolled students in your school and the top prospective qualified students and their families. You may opt to install it on your school field or stage during fairs and sporting events.
4. What Are The Different Applications Of LED Screens In Schools And Universities?
LED screens for schools are highly versatile display technology that gives numerous advantages to colleges and universities. Below are the possible applications of LED schools' signs/screens in an educational institution:
Classrooms. Having an LED screen (especially in large-size classrooms) can instantly turn a classroom into an interactive space that will encourage students to be more active and participative during classroom activities and discussions. Students will have a tool to easily share information during presentations, group activities, and student-led demonstrations. Interactive LED screens inside the classroom give students a high-quality learning experience.
Laboratories. LED screens in laboratories will help students understand the experiment's procedures when they can see an LED monitor with a high-quality picture display.
Lobbies and Lounges. You can use LED screens to inform or entertain guests and students as they wait in school lounges or lobbies. Digital signages for the school lobby may show time and date or even directions.
Cafeterias. You can use LED screens to display the drinks and snacks and other information related to available food options. It is a fun and attractive way to inform the students and faculty about the menu for today. You can also use it to display break schedules.
Auditoriums. There is no need for the students, faculty, and administrators to worry about printing designs and backdrops for every event. You can now have a visual delight using LED screens. It is an easy way to display audio-visual displays that attendees can watch and enjoy.
Gymnasium. LED screens are indeed helpful during sporting events. A gymnasium is one of the places where students are gathered to have fun and enjoy themselves. You can display scores and sports-related information, show the students' recognitions and achievements, or use it to improve the overall ambiance during a competition.
Others. Other LED screen applications at schools include hallways, school entrances, bulletin boards, libraries, etc.
5. Why Is YUCHIP A Trusted Supplier Of LED School Screens?
YUCHIP has been providing high-quality LED screen solutions worldwide since 2004. We offer fully customized and personalized LED screen displays for various applications, including LED screens for education.
We have a team of well-experienced engineers and highly-trained personnel who will provide you with professional support and expert advice for your school's LED display projects.
We have a full range of LED screen products, from small pixel pitch LED displays to large pixel LED screens. We can guarantee that all our LED screens deliver nothing but a superb performance to make you satisfied and happy. Our products come with a 3-5 year warranty for your protection.
We have friendly and customer-centered customer service to assist you before, during, and after purchasing LED screens with us. If you want to know how we can help you achieve your school LED goals, all you have to do is contact us through the details provided here on our website.
We look forward to serving you.
6. Conclusion
Schools in a digital age must have a modern way of communicating and interacting with today's students. This young generation of students, born during the internet era, are adept at communicating digitally and using various technologies.
Schools have to speak the language of the students to remain relevant. As a result, schools are incorporating digital displays into the students' learning experience.
LED screens for education are a perfect instrument to recognize the students' needs as learners and members of the modern world.