LED Theater Screen
LED Theater Screen has clear resolution and high brightness. It will bring you a vivid viewing experience and comprehensible presentation.
A theater LED screen surprises your viewers with its magnificent resolution, fine pixels, stunning HD, 2K, and 4K visuals.
Its huge sizes and clear visuals make you feel like in the actual scene of a movie or a film.
It can show various historical facts, political and revolutionary trivia, and many more in a museum installation.
LED Theater Screen Product Categories
Music, movie, dance, theater, or in a narrow term, the broadway or entertainment field is urging significantly alongside tourism, economics, manufacturing lines of commerce when it comes to profit, sales and attractions. With the crucial advancement in technology, you also need to apply the foremost digitalized approach to your theater venues, cinemas, and museums. With the help of an LED theater screen, you'll be able to achieve perfect and exemplary output for your viewers.
LED Theater Screen has fine pixel pitches, is flicker-free, high refresh rate, distortion-free and impressive parameters. It has customizable features as well; it meets your desired preference considering various factors in the installation area.
With refine pixel and quality diodes, an HD LED Screen is a perfect choice for movie theaters, cinemas (commercial or home use); it can give you reliable and steady performance with its high-grade core and outer materials.
Intact with superb resolution, an indoor LED screen is your ideal choice for crowd cinema or theater. The best fit for large and spacious museums enables everyone to see various data such as trivia, history, biological evolutions, etc.
A rental LED screen is your best partner for rental theater events, film shows, science fairs, and relative shows. Equipped with easy installation, movement an dismantling features, it eases every event without worrying about the weather.
Watch And Enjoy Films, Movies And Theater Performances
Adore and appreciate various creative content such as animations, sci-fi, fantasy, and comedy movies with your LED Theater Screen.
Leverage your theater experience in a more digital approach, far from conventional black screen and projector processes.
For museums, create and display lively content, educational and trivial, to help your viewers learn about history and how the world changed throughout time.
Stage performances such as orchestra, play, drama, traditional dances, etc., can be significantly appreciated when partnered with LED displays.
Customize Your LED Theater Screen
We always welcome your suggestion and preference; alongside, we will help you decide the best fit LED product to your theater and museum needs.
You can choose from our HD LED, indoor, or rental (indoor and outdoor) display screen series with various pixel pitch options.
Our rental screens (outdoor) come with extrusion materials, waterproof and dustproof outer covers.
Considering the installation area, your budget, your audience, and other factors, we'll help you customize the size, features, and other parameters to perfectly suit your project.
YUCHIP will provide you with outstanding after-sales services such as technical, online, and phone support, annual visitation, surveys, and other relevant services to address your needs.
YUCHIP:

Your Professional LED Theater Screen Manufacturer And Supplier

Aside from providing LED products to business establishments, YUCHIP also emphasizes reliving the entertainment industry. The entertainment industry brings significant profits and benefits to the general economy of a country. Thus, it is essential to give eyes to it. It encompasses the dance, music, film, movie, cinemas, and theater firms in which traditional and cultural dimensions take effect.

YUCHIP gives you an all-out choice in enriching your theater, cinemas, and museums venues through our LED display products and solutions with going two decades of expertise in LED manufacturing.
Our Factory
LED Theater Screen Related Videos
LED Theater Screen Latest Catalog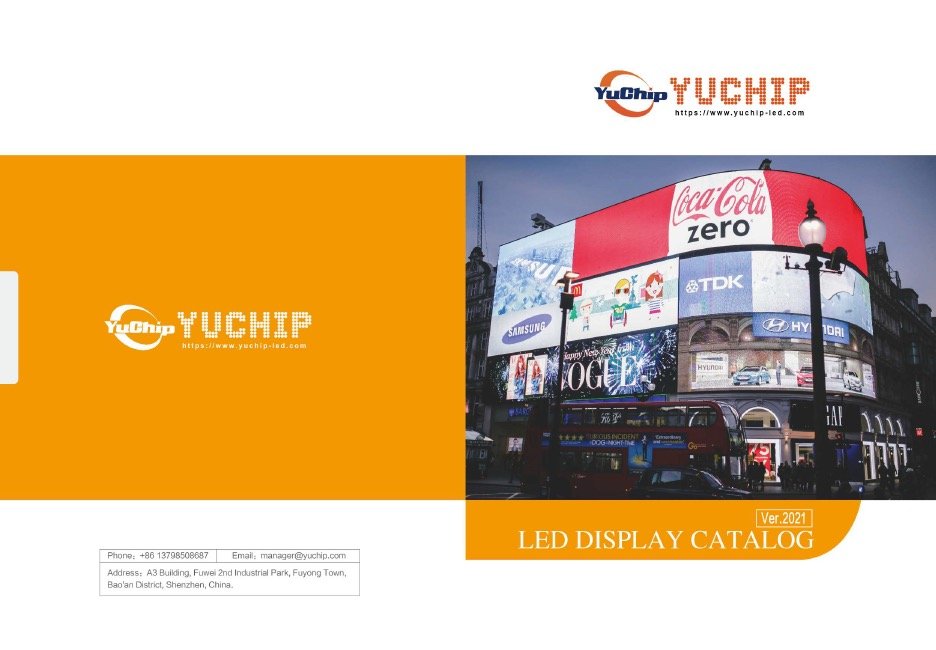 LED Theater Screen: Ultimate FAQ Guide
1. Introduction
The theater or movie industry is an entertainment and leisure provider that primarily shows motion pictures to audiences. A movie theater is not only the one that is inside a cinema; it also includes the drive-ins, outdoor film theaters, and film-fest exhibitors.
This industry was one of the most affected industries during the COVID-19 pandemic. However, it is anticipated to make a big comeback once the economy reopens for entertainment businesses.
There are nearly 190,000 movie/theater screens in the whole world. And the global movie theater industry revenue is estimated to be 41 billion USD per year.
To give the viewers a memorable experience, the quality of the movie screens does play a vital role. With recent advancements in the film industry and movie screens, it becomes easier to make the audience feel more immersed in any story they see.
Any theater company and owner needs to keep up with technologies and new experiences. It will make them stand out from theater competitions and other entertainment options.
2. What Is An LED Theater Screen?
LED theatre screen is a large-format modular screen monitor that replaces a conventional projector in movie houses and cinemas.
A projector-less commercial cinema first came into life in 2017. Since then, LED panels to show movies have spread across the globe.
It is a known fact that LED screens are way brighter and have superior contrast than a century-old projector image flashed onto the screen. Hence, this LED screen can give moviegoers an HDR experience that a projector cannot offer. This alone is already an enticing factor why LED cinema screens are becoming hot in the movie industry and market.
Though, the pandemic has put a temporary halt to most of the movie industry's operations. It became a perfect opportunity for many to improve and prepare for the awaited comeback of movie houses.
Installing LED cinema screens is now expected to become part of the upgrade strategies in various theaters. Many cinema companies and owners believe that LED movie screens would change and redefine the viewers' conception of the theatrical experience.
Below, you will find why LED screens for a movie theater are many steps ahead of a cinema projector.
3. What Are The Best Features Of The LED Screen For Theater?
Here are some of the best features of LED screens for theaters and cinemas that make them remarkable.
Theater LED Screen Has HDR Version. LED Theater screens have an HDR version. It produces picture displays with a wide range between white and black, so the images are more straightforward, even the scenes with a low light ambiance.
The Theater LED Screen is Brighter. An LED movie theater screen can provide brighter and more vivid color quality. It can make the audience become more into the film they are watching. The theater LED screen has a peak brightness level of around 300 nits.
LED Screen for Movie Theater is Modular. When you say something is modular, something is formed by combining smaller portions to create a large piece. LED panels are seamlessly connected to attain the big screen in cinemas. Modular LED screens can obtain a customized size ideal for a specific use or location size.
Modular LED Theater Screen is Easy to Maintain. It is much easier to repair an LED screen than a projector. Usually, you have to update the programming software or replace the broken module with a new one. Since it is modular, you do not have to dismantle the whole LED screen.
4. What Are The Applications Of Theater LED Screens?
LED theater/cinema screens are very versatile. They are strategically utilized in the theater and cinema industry in various ways. Here are some of the ways LED screens can be functional:
Direct View LED Screens. As previously mentioned, little by little, many cinemas worldwide like the USA, several European countries, and Asian countries like Japan, Singapore, and China are now replacing projectors with LED screens.
Stage Background Screens. Especially in Europe, where there are several theaters, LED screens are now the most preferred technology to install as the stage background. LED screens using SMD technology produce a much higher resolution and image quality giving the audience a heightened viewing experience.
LED Dynamic Screen Posters. LED screens replace static ad posters placed in the entrance gate and hallways, allowing the audience to see high-quality and continuous trailers. It also allows advertisers and cinema owners to promote the play or film with a more enticing and inviting display.
Drive-in / Outdoor LED Movie Screen. LED screens are ideal for outdoor venues because they can deliver quality imaging under direct sunlight and broad daylight.
5. How LED Screens Can Improve The Cinema Experience Of The Viewers?
LED screens are a game-changer for the movie, theater, and film industries. This innovation has a positive impact on the "big screen" experience.
LED Screens can deliver more viewable images regardless of the day and venue. LED theater screen brightness is adjustable, ensuring that the audience will enjoy a vivid and clear motion picture display without blinding them.

There is an array of HD resolutions from 4k to Ultra HD LED screens available for your cinema. High-resolution cinema screens will make the audience more immersed and involved as they will see a more realistic video display on the movie screen.

LED theater and movie screens usually run at around 3000 and more Hz, which allows you to deliver more stable and flicker-free images on the monitor screen.

LED theater screens can offer higher color uniformity and distortion-free and interference-free video display. It will significantly improve audiences' viewing experience in both 2D and 3D movies.
6. Why Should I Purchase/Rent A YUCHIP LED Theater And Movie Screen?
If you are looking for a reliable solution for your theater and cinema LED screen needs, YUCHIP is the trusted and go-to supplier headquartered in China.
We have a wide range of LED screen products, suitable for your various needs, from small to large pixels screens. Our LED products, which pass the international standards, utilize top-notch and latest technologies, ensuring that each LED solution delivers superior performance.
Our well-trained and highly experienced personnel are more than willing to customize a solution tailored to your cinema requirements and needs.
We have been providing high-quality and exceptional LED solutions to more than 100 countries since 2004. We are committed to bringing your LED cinema ideas into reality.
Call or send us a message today to give your audience a better cinema and theater experience.
7. Conclusion
Despite temporary closures of all cinemas in every corner of the world because of the recent pandemic we are experiencing, the cinema industry is determined to have a resurgence sooner or later.
Because of several movie streaming platforms available at the convenience of our homes, people are now wanting and expecting a new and better viewing experience in cinemas and theaters.
The only way to keep the market excited and interested is to keep up with new technologies and trends.
LED screens are important ways to make the cinema experience of the audience more immersive and thrilling than ever.
As the world reopens, this innovation in movie display will make the industry alive and more prominent.