Commercial LED Display
Commercial LED Display is known as commercial advertising LED screen, and it ranges from outdoor LED screen to indoor LED display advertising application fields.
Commercial LED displays' vivid colors, and sharp images deliver extraordinary visual impact and attract those passing by to maximize the media advertising value.
It brings digital perspective to the whole area, making it look nicer and adding creativity, theme, and color.
Even at a distance, viewers can see the photos, videos, ads, campaigns, and texts. Plus, a commercial LED screen can display a wide variety of animations; therefore, it is the best choice for outdoor advertising.
Commercial LED Display Product Categories
Over the years, advertising has been a part of businesses. Every firm believes that advertising is the best way to capture an audience. With the content played on digital screens such as LED displays, people can quickly learn and be educated about the various products and services you offer.
Going back to traditional advertising, papers and posters are very common. But as technology moved and advanced, advertising was also greatly affected, changing channels and methods significantly. Understanding the need for effective advertising is a crucial task; however, if you opt to achieve it, you have to partner with a reliable provider to help you build an empire for yourself.
Outdoor Advertising LED Display is your best accomplice in advertising along with commercial buildings and business establishments with an outdoor fixed installation.
Advertising can also be done in indoor establishments such as shopping malls, hotels, and restaurants. It is widely common because people gather in indoor locations.
With Custom Commercial LED Screen, you can choose different shapes and presentations that would surely make advertising even more captivating and presentable.
Advertise With Commercial LED Display
Advertising should be effective because it is, it builds so many opportunities for your business. And investing in worthwhile equipment such as a commercial LED display is a wiser choice.
We provide outstanding and utmost service and support from choosing your commercial LED screen, customization, installation, maintenance, etc.
We will help you choose the best pixel pitch option for your commercial LED display screen projects and businesses.
Considering various factors in choosing, YUCHIP will guide and help you realize the most advantageous product for you to achieve effective advertising for your firm.
Customize Your Commercial LED Display
Commercial Advertising LED Display should be huge enough to be able to cater to huge audiences. YUCHIP, with our technical and R&D team, will help you bring your idea into a blueprint and make them into reality.
Customizing might take the following factors in the table such as budget, installation area, maintenance, and size, however, we will help you achieve your preferred display product.
The commercial LED display has various pixel pitch options ranging from P1.56, P1.875, P2, P2.5, P3, P4 to P8, P10, P56, and we also customize according to your preference.
If you're worried about installation, we will help you with it and provide you with guides and manuals, too.
Regarding maintenance, we offer you to choose either front or rear depending on the available space on your LED Display surroundings.
YUCHIP:

Your Professional Commercial LED Display Manufacturer And Supplier

YUCHIP, with 17-year experience in the LED display industry, is an expert in providing you quality screens for advertising. Since commercial LED display comes in big sizes, we make sure to give nothing but the firmest material, reliable and cost-effective commercial display products.

We have provided hundreds of commercial LED display modules to hundreds of countries around the world and we've seen how advertising impacted our clients' business status and economical level. With our commercial LED display, we look forward to helping you achieve effective advertising and upgrade your product's visibility and brand awareness.
Our Factory
Parameters
Commercial LED Display Related Videos
Commercial LED Display Latest Catalog
Pixel Pitch (mm)

8

10
16
20

25

Pixel Configuration

SMD3528

1R1G1B

Pixel Density (pixel/㎡)

15625

10000

3906

2500

1600

Module Resolution (WxH)

40*40

32*32

20*20

16*16

8*8

Module Size (mm) (WxH)

320*320

200*200

Brightness (cd/㎡)

≥7000

≥8000

≥6500

Viewing Angle (H/V)

110/70

Cabinet Resolution

120*120

96*96

60*60

48*48

40*40

Cabinet Size (mm)

960*960*150

1000*1000*150

Cabinet Weight (kg)

55

50

Refresh Rate (Hz)

≥600

≥1000

Max. Power Consumption (W)

800

940

850

Maintenance Mode

Front & Rear

Rear

Cabinet Material

Steel

Contrast Ratio

1800:1

Color Processing Bits

16 bit

Operating Temperature (C/RH)

-20~+60/0-95%

Storage Temperature (C/RH)

-30~+80/0-95%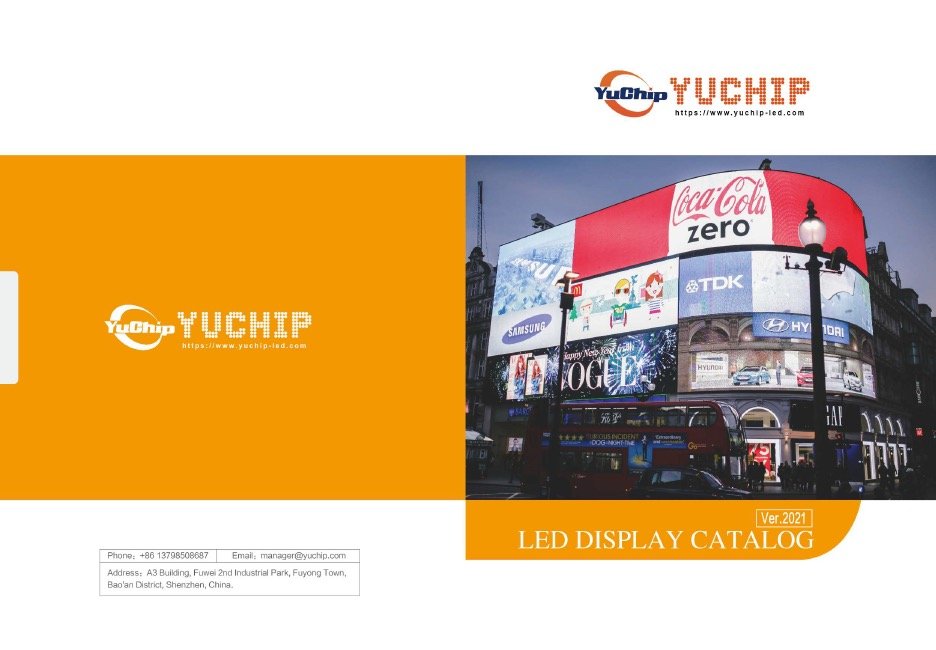 Advertising LED Screen: Ultimate FAQ Guide
Do you want to make a better impact on your audience? Does your current advertising method give you not enough reach to penetrate your target market?
Maybe it's time to utilize the most advanced and sought-after advertising method that many of the biggest companies are currently using. We're talking about utilizing digital display technology to effectively promote and advertise your brand to a much bigger audience. And when it comes to digital display, the most recommended is the LED advertising screen.
1. What Is An Advertising LED Screen?
An Advertising LED Screen is essentially a TV monitor used to play or showcase different types of ads to promote your products or services to bystanders, commuters, shoppers, and other possible customers.
It is a digital billboard or digital display that allows you to have bezel-free or visible line breaks to the audience, making it more conducive for viewing.
Today, it is the most advanced digital display option available in the market, capable of producing screen brightness better than any other available alternative.
The LED screens have pixels working together to create beautiful images on the screen surface. These screens come in different sizes to match your varying business needs.
2. What Are The Types Of Advertising LED Screens?
Since you are already contemplating investing in your unit of LED advertising screens, you should learn about its different types. It will help make an informed decision on which one best suits your business needs.
Indoor Advertising LED Display Screen
As its name suggests, an indoor advertising screen is ideal for inside locations. It is common inside shopping malls, airports, restaurants, and others.
This type of screen is used to improve the overall experience of the customers visiting your place. It offers you an opportunity to showcase audio-visual ad content to attract or inform more potential customers lounging in the area.
It is imperative not to install this advertising screen in the unsheltered or unprotected areas as it does not have enough protection to withstand collision and liquid intrusions.
Outdoor Advertising LED Display
If you want to install an ad display in outdoor locations, this is the ideal LED screen for you. It is effective in targeting a wide variety of audiences from close and far distances. Moreover, an outdoor advertising screen has at least an IP65 protection rate. This rate is the required ingress protection for all outdoor LED screens.
It refers to the sealing capacity of your LED screen case cabinet, protecting it from the harsh environment and different weather conditions. You can often see this type of advertising screen alongside major roads and highways in the city or buildings' exterior walls.
You can quickly move this type of advertising display from one place to another.  An LED screen is attached or mounted on a truck or trailer for easy moving and transporting. It is not installed in a fixed location so having it in multiple locations is not a problem.
Mobile LED advertising display boards require the least time and effort in installing and dismantling since they are already attached to a vehicle. You can have it driven around the area to increase the exposure of your ad content. 
Mobile LED screens are usually for rent.  It is an ideal solution for your future event.
The poster LED screen is often the smallest advertising LED screen. It is usually the same size as a regular print poster display.
This type of ad display is also manageable and movable from one point to another. Although it does not usually have wheels like a mobile advertising screen, it has a base that makes it stand on its own.
It is often located in front of any establishment to attract viewers and passersby. Since it is relatively smaller and lighter, you can also have it mounted on light poles, walls, or windows.
3. What Are The Common Applications Of Advertising LED Screens?
Advertising LED display screens is one of the most functional and multipurpose display technologies that we have the privilege to use today. Discover the best places you should be installing and lighting up your LED video wall for advertising.
Mall
Shopping malls are one of the places where people are expected to spend some money. Then, it immediately becomes an ideal place to showcase your captivating ad content to convince the mall-goers to try your product or services.
A stadium is a place where concerts and important sports events are held. It is another place that caters to a large number of people. Therefore, an LED digital screen for advertising can be beneficial for your brand and business.
Airports And Transport Terminals
Airports and transport terminals are the entry point of many people to any place. Meaning, a huge volume of tourists and travelers drop by, wait, and lounge in the airports.
Restaurants, Hotels, And Retail Stores
Advertising LED display screens can help your business become more easily discoverable. You can also use them to entertain customers and display promotions and your other services. Since they display information in striking colors and brightness, they are more effective in getting your customers' attention.
  Other Settings
LED advertising screens are also suitable for offices, buildings, events places, clubs, etc.
4. What Are The Advantages Of An Outdoor Advertising LED Screen?
These are some of the cited advantages of using an LED screen for outdoor advertising:
 

They make your advertisement more attention-grabbing.
One of the most appealing aspects of advertising LED screens is to make ad content more eye-catching. Creating interesting ad content is one thing, but flashing it on a bright and vivid LED screen is another. You will notice that viewers are more likely to stop and pay attention to your advertisement or message.
 

They are weather-resistant.
LED advertising screens are built to last. They have high resistance to damage. Also, they have protection factors that allow you to display your ad content regardless of the weather condition.
They are easy to manage and operate.
LED screens are ideal for busy business owners like you. And even if you don't have a computer system in the location, you can still keep your advertising screen operational. You can manage and control your digital advertising screen using a plug-and-play external media player. All you need to do is plug in your storage device, and you can now start broadcasting your ad content.
 

They support a variety of media content.
As an advertiser, you want to have minimal or zero limitations with what you can show in your advertisement. LED screens allow you to choose from all types of media content for your digital displays. You may opt to have dynamic media for better engagement and viewing experience of your audience.
5. How To Make Money With My Advertising LED Screen?
LED Screen Advertising Company uses LED video walls as a way to make money.
As more and more companies and businesses see the effectiveness of digital advertising and using LED video walls in promoting and increasing brand awareness, the demand for LED advertising screens also increases.
Many companies, big and small, now look for rental LED advertising screens to broadcast their ads. You can use this as an opportunity to work with different brands by leasing them your installed LED screens.
This setup is a no-lose investment. Because even during the months that your LED advertising screens are not on the lease, you can use them instead to promote or advertise your brands and business.