Truck LED Advertising
YUCHIP Truck LED Advertising is a vital advertising medium for outdoor events and campaigns based on its unique advanced structure feature.
Truck LED Advertising is an important advertising medium for outdoor events and advertising campaigns based on its unique advanced structure feature.
It's known as truck-mounted LED display and trailer-mounted LED screen.
YUCHIP Truck LED Advertising fulfilled a complete set of components to meet and exceed event organizers' and sponsors' expectations during the LED screen usage.
Truck LED Advertising Product Categories
YUCHIP's Truck LED Advertising series includes the mobile truck, and mobile trailer LED displays. These LED Displays are designed to ease advertising and expand the digital network through broad advertising scopes. Also, it gives you a higher probability of targeting good sales and profits through an unlimited brand awareness possibility.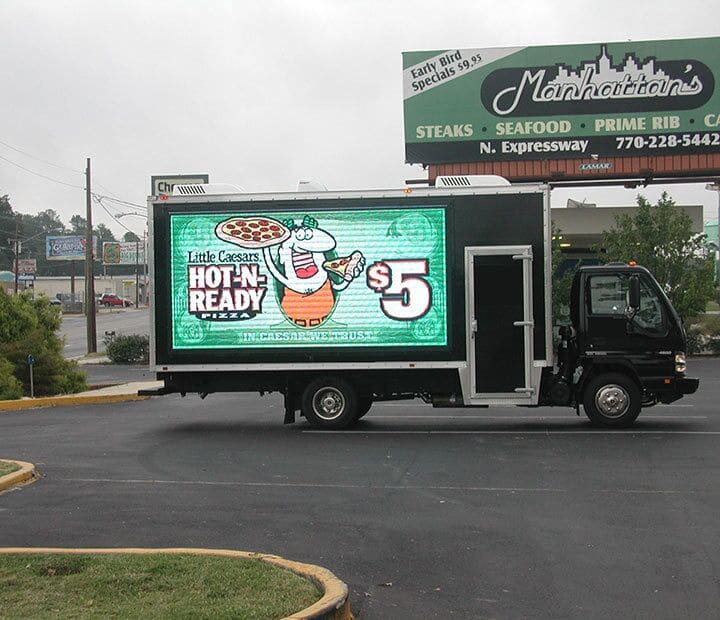 A truck LED screen eases advertising more conveniently because of its movability features. It can move from one place to another in 24/7 operation.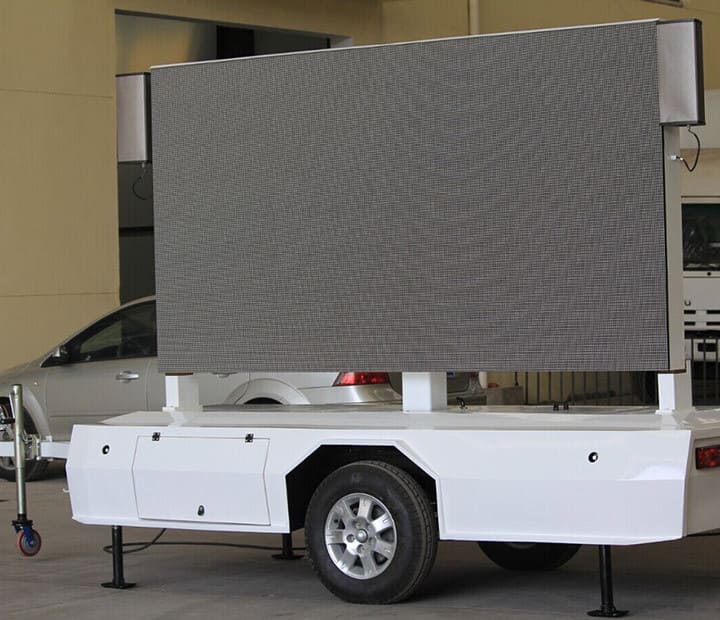 Trailer Displays utilize special LED displays which are solely designed for movability. It has a highly stable structure, waterproof and dustproof properties.
Large Trailer LED Screens require slow driving. In addition, even if the LED display has a special design, the trailer display weighs more than conventional displays.
Why YUCHIP Truck LED Advertising
YUCHIP is your leading LED Display manufacturer from China, and we've designed and accomplished various advertising LED displays over the years.
Our truck LED advertising attracts more and more audiences during events or operations.
The truck advertising can run and work 24/7 in various places and locations.
It has waterproof and dustproof features allowing it to work steadily under uncertain circumstances.
You can easily customize the content through a computer and you can play content separately or simultaneously.
Customize Your Own Truck LED Advertising
YUCHIP's professional R&D team is dedicated to creating industry-leading truck LED advertising products and providing you with optional solutions. We launched different truck LED advertising display sizes and pixel pitches to meet your specific project needs.
You can choose from comprehensive pixel pitch options that suit your truck's LED advertising project.
We can customize the size and relevant parameters to meet your standard and preference.
Our quality LED displays to undergo a series of aging tests and infections to ensure the product will not have issues in the future.
YUCHIP:

Your Professional Truck LED Advertising Manufacturer And Supplier

YUCHIP is your best truck LED advertising manufacturer that has 16 years of professional manufacturing and project experience. Our engineers use top-notch technology and the best materials to create high-quality truck LED advertising for you.

We've exported and manufactured numbers of LED displays for truck advertising, and it is our legacy to serve every individual in their LED Display needs. Since most individuals and businesses need advertising, our unique way is to help you leverage brand awareness, sales, and prominence in your field.
Our Factory
Truck LED Advertising Related Videos
Truck LED Advertising Latest Catalog
(Truck LED Display For Advertising)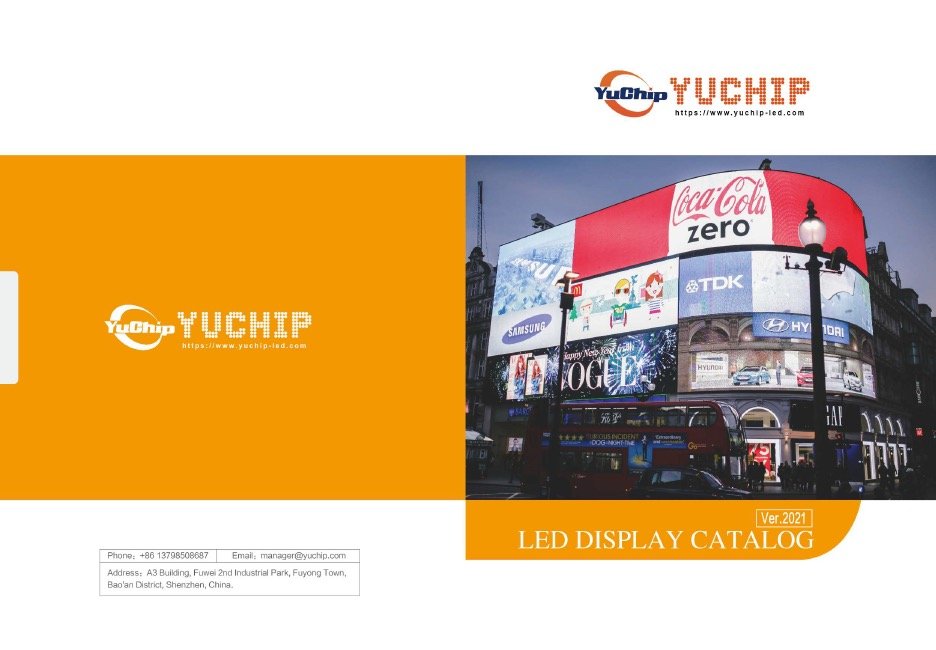 Truck LED Advertising: Ultimate FAQ Guide
1. What Is A Truck LED Display?
A truck LED display is an LED screen on wheels. It is a mobile LED billboard ideal for rentals because you can drive it almost everywhere. Some call it a truck-mounted or trailer-mounted LED display because it is an LED video wall attached to a trailer truck.
This digital billboard truck became popularly used in events held outdoors. It delivers high-quality, high-resolution digital displays for advertising campaigns and brand promotion.
The truck LED screen utilizes the latest SMD technology, which gives your LED screen bright light and a clear image display even under direct sunlight.
Additionally, you can adjust the light intensity of your LED truck screen according to the current light condition of your area. If you have upcoming outdoor events, you must consider renting or installing an LED advertising truck.
It is a perfect opportunity to increase brand awareness or impress your sponsors. Plus, it makes the event more entertaining and the crowd more engaged.
YUCHIP offers a LED truck screen display with a complete set of system components and desirable features to ensure that your and your sponsor's needs are met.
2. What Are The Features Of A Truck LED Display?
LED advertising trucks offer unique features that make them a popular LED display choice during events.
Movable. Since you can easily attach the LED screen to almost any truck with a hitch, you can easily have it driven to multiple locations.  It makes the transfer of your advertising LED screen convenient. You may station it in one area for some time and then transfer it somewhere else. YUCHIP mobile digital billboard also utilizes ultra-slim LED screen cabinets, making it lighter and safer to transport.
Quick Installation. Digital billboard trailers have a fast lock mechanism for quick and easy installation. Since you can directly hook up the LED screens on your truck/trailer, the time spent on installing it will be a lot less.
Hydraulic Lift System. The truck LED screen has adopted the hydraulic lift system, so lifting your LED screen display. It also allows you to turn your LED screen 360 degrees to face the audience from all directions. This technology does not only increase the entertainment value of your event, but it also increases your potential advertising revenue.
Self-contained Control Room. The mobile digital LED billboard advertising truck has its mini control room. It also has an automatic control function, and it supports multiple signal input formats.
3. What Are The Applications Of Mobile Truck LED Displays?
The LED truck is used as a creative outdoor mobile digital billboard display in various events. The LED video truck is beautiful, making it an instant innovative decoration for your event.
It instantaneously enhances the scenery in your event place. It has become popular and in-demand during outdoor celebrations and affairs.
Sport Related Events. Mobile truck LED displays are common during sports events such as triathlons, races, gold events, etc. LED video trucks may serve as advertising tools or noticeable stations.
Concerts. Another event where LED wall trailers are standard is a music concert or music festival. LED video trucks are helpful for the audience. They boost the energy and experience of the attendees. Plus, it makes an appreciable display during concerts.
Business and Corporate Events. For once in a while, such as at trade shows, tech fairs, and other gatherings, and easy LED display trailer to install and dismantle is an excellent option. It serves its purpose with flying colors and is quick to pull out.
Outdoor Cinemas. An LED video truck is also convenient for setting up an outdoor cinema. It is ideal for the public to view important events such as international sports and competitions.
The LED display trailers also show usefulness during political rallies, outdoor church services, graduations, etc.
4. What Are The Most Significant Advantages Of Using Truck LED Displays?
Truck LED displays are a popular digital display option for various events because of their unique qualities and excellent performance.
If you are planning to use an LED truck display for your subsequent events, here are the main advantages that your LED truck displays can offer:
Portable. Since LED digital billboard trucks have wheels. It is easy to station anywhere you want. It does not require a laborious transport system to transfer from one place to another. Renting and transporting an LED video truck is just like driving your car. Its ultra-slim screen cabinet makes it way easier to move.
Versatile. One best thing about LED display trailers is the versatility it offers. You can use it for visual decorative display purposes in one of your events or as an advertising screen for your sponsor in your next event. It also supports all kinds of file content. You can display colorful images, engaging videos, fun audiovisual displays, etc.
Manageable.  Mobile LED billboards are easy to manage both in installation and operation. It does not require unique structures or scaffolding to install, and it is as easy as other LED displays to control.
All in ONE. Above all, LED truck display as an all in one outdoor digital display. It has its power generator, control room, and structure. You have to drive it to the location or venue, and you may now display your advertisement and other digital display content. It requires less time to set up, less staff to manage, and less effort to achieve your digital display.
5. What Are The Tips In Choosing/Purchasing A Truck LED Display?
If you contemplate having a mobile LED display for your business or events, here are some guidelines for renting/buying a mobile LED display.
Decide whether you will purchase or rent the mobile LED display. 
The first thing you need to identify is whether it is for one-time use or otherwise. If you utilize the mobile LED screen for just one event, renting from a mobile LED display supplier might be wiser. However, if you plan to use it multiple times in a month or year, purchasing your business mobile LED screen would save you more money.
Choose mobile LED screens with the correct pixel pitch value. 
Mobile LED screens have different pixel pitch values. The perfect pixel pitch for your mobile LED screen depends on your audience's viewing distance. So before purchasing your mobile LED screen, you must know how you are going to use it. You can estimate how far your audience will be from the digital screen.
Choose the appropriate truck/vehicle chassis for your digital display. 
Your truck or trailer will determine how big an LED screen you can hook up to. So, make sure to purchase the right truck size for your requirements and needs.
Since the mobile LED truck will be moved and transferred from one location to another, choosing a quality truck chassis for your LED display trailer is necessary.
Do not always go for the mobile LED display with the lowest price.
It is not practical to purchase the cheapest mobile LED screen you can find. Choose the led screen truck rental that meets your requirements and needs. It is always better to go for a quality LED truck for a reasonable price.
Find a reliable supplier and manufacturer of mobile LED displays.
Most importantly, go to a trusted mobile LED display trailer manufacturer. Choose a provider who is an expert in the field. The right mobile LED provider will help you with all the tips mentioned in this list. They are the ones who know everything about LED trucks.