LED Poster
When you are searching for the perfect LED poster for own use or renting out to events and exhibition etc, it's essential to consider a few key factors. For instance, LED poster size, resolution, brightness, content management, mounting and installation, durability, power consumption, price, customization options and more.
Two premium LED poster display sizes: 640(W) x 1920(H) x 45(T)mm;       560(W) x 1890(H) x 35(T)mm.
High-resolution: P2.5(256×768 pixels); P1.86(344×1032 pixels); P1.53(418×1254 pixels); P1.25(51×1536 pixels).
YUCHIP LED poster is simple to use, plug and play through USB, WiFi, and Mobile App. It's easy to install, supports 90-degree ground standing, adjustable back bracket, and wall-mounted, etc.
LED Poster Product Categories
The poster LED screen has grown to be a star product and is spreading fastly worldwide in the LED display market. Due to its portable and movable features, the LED poster is widely used for retail stores, exhibitions, hotels, transportation, and more.
YUCHIP has successfully developed indoor and outdoor LED posters to meet market demands. All of the iPhone-style, indoor and outdoor poster LED supports multiple installations. For instance, movable wheels, hanging from the ceiling, ground standing, and wall-mounted.
Indoor P0.9 to P5. Full front service. No tempered glass. Ultra-thin design. LED poster screen size is changeable as per module size.
Pixel pitches P1.86, P2.0, P2.5, and P3. LED poster screen size 640x1920mm. Tempered glass. The most popular model.
Outdoor P2.5 to P5. IP65, 5500 – 6000 nits brightness. It has a more impactful visual experience than an LCD poster.
Experience Exceptional Visuals
When you choose YUCHIP LED posters, you're choosing excellence in display technology. We're dedicated to delivering stunning visuals, unmatched performance, and the flexibility you need to take your content to the next level.
 5000:1 high contrast ratio. The contrast ratio makes every image come to life and ensure that your visuals pop with incredible depth and detail.
3840Hz high refresh frequency. It's a smart LED poster with seamless and fluid display to deliver a buttery-smooth viewing experience.
Up to 6 LED posters extendable. With an HDMI cable, you can easily extend your content to other screens, creating a more immersive and expansive visual experience.
Tailor Your Vision
At YUCHIP, we understand that every display need is unique, and that's why we offer a wide range of customization options for our LED posters. With YUCHIP's customization services, you have the power to design an LED poster that perfectly suits your needs.
Flexible Installation. Whether you prefer on-ground, adjustable back bracket, wall-mounted, or suspended installation, we have you covered. You can also position your LED poster horizontally or vertically, adapting it to any space or creative concept.
Advanced Technology. With various LED technologies including SMD, GOB, and COB, it allows us to tailor your LED poster to achieve IP43 and IP65 ratings for different applications.
High Brightness. The indoor and outdoor high-brightness LED posters ensure that your content shines even in the most challenging lighting conditions.
YUCHIP:

Your LED Poster Display Experts

YUCHIP is your trusted partner in the world of LED poster displays. With over 18 years of industry-leading expertise, we bring a wealth of innovation to the table. Our state-of-the-art manufacturing facilities ensure precision and quality in every LED poster we create. We understand that customization is key, offering options in size, resolution, brightness, and special features to bring your unique vision to life.

But our commitment doesn't stop at manufacturing. YUCHIP provides comprehensive support, with a team ready to assist you 7/24. From installation guidance to troubleshooting assistance, we're here to ensure your LED poster displays perform flawlessly. With a proven track record of 120 countries' satisfied customers and a dedication to excellence, YUCHIP is the go-to choice for those seeking exceptional LED poster displays that captivate and inspire.

Our LED posters are popular as trade show LED displays, retail LED displays, and transportation LED screens. It is popular among places such as museums, offices, government establishments, malls, theaters (ticket booths and film halls), and a lot more.
Our Factory
Parameters
LED Poster Related Videos
LED Poster Latest Catalog
Pixel Pitch

P1.86

P2
P2.5

P3

Module Size (mm)

320 x 160

192 x 192

Module Resolution (pixels)

172 x 86

180 x 80

128 x 64

64 x 64

Cabinet Size (mm)

640 x 1920

576 x 1920

Scan Mode

1/43

1/40

1/32

Pixel Configuration

3 in 1

LED Lamps

SMD1515

SMD2121

Pixel Density(pixel/m²)

288888

250000

160000

111111

Brightness(cd/m²)

900

1000

Max. Consumption (W/m²)

600

550

Ave. Consumption (W/m²)

200

180

Cabinet Weight (kg)

55

Maintenance

Rear Side

Cabinet Material

Aluminum Profile

Front/Rear IP Level

IP45

Color Contrast Ratio

5000:1

Gray Grade

16bit

Refresh Frequency (Hz)

3840

Repetition Frequency (Hz)

50/60

View Angle (H/V)

160°/160°

Best Viewing Distance (m)

2

2.5

3

Working Voltage

AC110 / AC220V

Working Temperature (ºC)

-30~+80℃

Operation Humidity (RH)

0-95%

Display Lifetime (hours)

≥100000
LED Poster Display for Money Change Stores
(Chain stores in UK, Spain, Estonia, France, Finland, Denmark, USA )
(YUCHIP New LED Poster LED Digital Poster)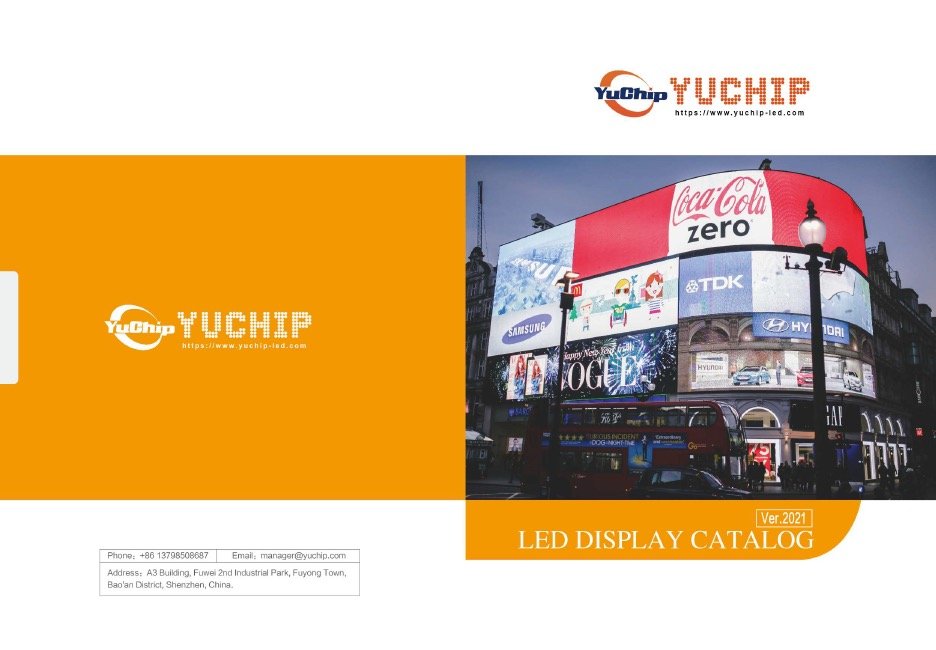 LED Poster: Ultimate FAQ Guide
You may notice someone changed their printer banner to an electronic or digital LED poster, which is more eye-catching and gains more visitors to their shops. You might see an LED poster at the hotel entrance as a welcome banner which is more appealing. But what exactly is LED poster, and how it works? As China leading LED poster manufacturer, we prepared a FAQ guide for your better understanding of LED poster and to help you get the best LED poster to boost your business.
What is LED poster?
What Benefits Does LED Poster Bring?
What Are the Different Types of LED Posters?
Which Places Will Use LED Posters?
How To Choose A LED Poster, Which LED Poster Suits My Project?
How to Install LED Poster, Is It Easy?
How to Upload Image and Video Content to LED Poster?
How to Connect Multiple LED Posters as One LED Screen?
Why Choose LED Poster from YUCHIP
Conclusion
What is LED Poster?
LED poster is a portable digital LED poster display that shows the stunning image and dynamic video content. The multiple contents can be easily updated through the internet and USB without extra material cost. The digital features enable LED posters extraordinary advantages in replacing traditional printed banners.
Benefits of Installing LED Poster
More eye-catching. The LED poster displays vivid content and has much higher brightness than the LCD poster. It's easier and quicker to catch a client's eyeball from a far distance.
Clear and direct message delivering. The LED poster display content in a direct visual way which is more engaging and direct to the audience. Unlike static poster or banner, people love to watch dynamic displays.
Unlimited playing content. LED poster can display various images, videos, and text repeatedly and offline. You can easily change the playing content through our free App without extra cost and time limit.
Modernize your area. Compared to traditional banner and printed poster, LED poster significantly upgrade your area's image to a higher level. In the long run, it will extend the clients' staying time, lure their visit and promote your business.
Maximize clients' viewing angle. As LED poster is movable, you can easily move and turn the LED poster screen direction to face client's entrance side. For instance, you may move the digital LED poster in an event from the opening to the ending time toward the people flow.
What Are the Different Types of LED Posters?
There are many types of LED posters. From the LED display manufacturer's view, we define LED posters mainly in three aspects.
Based on the Application Environment
Outdoor LED poster. The primary and important request for an outdoor LED poster is IP65 waterproof and high brightness to be visible even under direct sunshine. On the LED poster screen front, the LED module has a silicon injection to be waterproof. The backside has outward cover and inward shield design to be waterproof and dustproof. Generally, the outdoor LED screen brightness is suggested to be above 5500 nits for outdoor use.
Indoor LED poster. The indoor LED poster mainly requires a higher definition and closer viewing distance. Most of the audience stands not far from the LED poster screen and needs to watch clear playing content.
Based on LED Poster Structure Design
LED iposter (LED postair). It utilizes the high-precision extrusion aluminum material cabinet and adopts a 640x1920mm screen size. YuChip iposter LED is designed with various installation methods. The most popular types are: Ground standing with movable wheels, wall mounted, and ceiling hanging. LED iposter is at #1 choose.
iPhone-style LED poster. It uses classical steel material to form iPhone, or other customized shape LED poster. Instead of a 640x1920mm screen size, it's easy to change the LED screen size, and legs length based on each project's needs.
Based on LED Poster Pixel Pitch
The resolution below is based on a standard LED poster size 640x1920mm.
P1.86 LED poster: It adopts 1.86mm pixel pitch LED screen, and screen resolution is: 344×1032 pixels. The best viewing distance is above 1.8m.
P2.0 LED poster: It adopts 2mm pixel pitch LED screen, and screen resolution is: 320×960 pixels. The best viewing distance is above 2m.
P2.5 LED poster: It adopts 2.5mm pixel pitch LED screen, and screen resolution is: 256×768 pixels. The best viewing distance is above 2.5m.
P3 LED poster: It adopts 3.076mm pixel pitch LED screen, and the screen resolution is: 208×624 pixels. The best viewing distance is above 3.
From the global market view, P2.5 digital LED poster is undoubtedly the shining star occupying the top 1 sale position. Among all, Germany and Europe market more prefer P2.5 LED poster, the American market always go with P1.8 iposter LED, and North Africa choose a P3 LED poster most of the time.
Where Are the LED Posters Used?
LED posters are widespread use worldwide. Its great advantages make it ideal media to replace traditional, old-fashioned printed display banners. LED poster fits places that need a portable, movable LED screen.
You may find shining LED posters in retail storefronts, shopping mall gates, hotels, restaurants, tradeshows & exhibitions, cinemas, museums, airports, train station, and more. LED posters can also be used in events like weddings, concerts, birthdays, press releases, etc.
In a word, LED posters are popular to promote your business, lure audiences, deliver a message, announce a promotion, or as decorative displays for your stores or events.
How To Choose A LED Poster, Which LED Poster Suits My Project?
Outdoor or indoor environment: It's the first question to answer to propose a LED poster. The outdoor environment requires LED poster to be IP65 waterproof and have high brightness, while indoors do not.
Installation site condition: The iPhone style is a popular choice to replace the existing LCD poster display, as it has a similar looking but better performance in color, brightness, and lifespan. At the same time, an iPhone-style LED poster takes up very little space for installation (money exchange shops use a significant quantity of it). The suggested model is the LED iposter(LED postair) in other conditions.
Viewing distance: If the installation site needs a short viewing distance within 2m, the P1.8 and P1.5 fits. If the viewing distance is above 3m, a 3mm LED poster is good enough and at a competitive price. Other than these two viewing distance requirements, the P2.5 LED poster is your best choice, which has a high resolution(256×768 pixels) and is at a competitive price.
Budget: The LED display trend is higher resolution, and people love seeing clearer and more detailed display content. So, if you don't have budget pressure, P1.5 and P1.8 are your best choices with higher resolution. If you have a budget plan, we will work out the best model that fits your needs within your budget.
How to Install LED Poster, Is It Easy?
It's easy to install LED poster. Upon your selection, LED posters will arrive to you in wooden cases or flight cases(We recommend flight case package if you buy LED posters for rental business). The next thing comes to you is how to install LED poster and make it work to boost your business. Here we take an example of P2.5 LED postair as an installation guide.
How to Upload Image and Video Content to LED Poster?
You can update content to LED poster through mobile phone, computer, and USB. Among all, mobile phone control is the most popular use, which is simple to operate and flexible to control at any time. Check the below video is a P3 LED poster demo to get you're a clear understanding of how to upload image and video content to LED poster.
How to Connect Multiple LED Posters as One LED Screen?
When you have 2pcs and more LED poster, you are wondering how to cascade the multiple LED posters as one big LED screen. To connect a few pieces of LED poster as one screen, the hardware has two requests: The LED poster controller(TB40, TB50, TB60 yes, TB1, TB2, TB30 no) support and HDMI "In" and "Out" interface designed.
From below video, you will see 2pcs of P2.5 LED posters as a demo. The steps are the same if you have 3, 4, 5, or 6pcs. 5 Steps To Show You How To Cascade LED Posters.
LED poster cascade by HDMI.
Connect the LED Poster by Wifi and control it.
Setting the 2pcs LED Poster cascade together on your phone( by our given ViPlex Handy App).
Connect the first LED Poster and send the program.
Disconnect the two LED Posters, and they work independently again.
Why Choose LED Poster from YUCHIP
YuChip is the top3 LED poster manufactures in China. It uses top-notch technology and industry-leading materials to offer you the best LED poster at affordable price. Since 2004, it has provided high-quality LED screen to over 102 countries. YuChip LED posters are especially popular in Europe(P2.5) and America(P1.8, P2.5). We provide a 3-5 years warranty for LED poster products.
From here, you will get the wholesale LED poster price. It significantly reduces your sourcing cost and strengthens your local market competition advantages. The MOQ is 1pc, and you will get discount for bulk orders.
YuChip sophisticated sales engineers are offering you instant and professional service 24/7. Besides the headquarter in Shenzhen, the company branches are in Germany, Hungary, Italy, Nigeria, Thailand, Malaysia and Peru. You can easily get prompt service from the factory or branches needed.
Conclusion
Whether you are looking for LED posters for your franchise's own use or you plan to wholesale LED poster from China and resell locally; Whether you are ready to get YuChip standard LED poster or need to customize for your unique space; Whether you are carrying bundled of investment capital, or you have a limited budget to start. We are ready to help and we are more than pleased to grow with you to expand your local market development.