LED Poster
LED poster is an all-in-one standalone digital screen to display stunning images and dynamic videos. LED poster is smart in changing display content, and it's more eye-catching than LCD poster display due to its higher brightness and vivid color.
YUCHIP LED poster pixel pitches include P1.86, P1.9, P2, P2.5, and P3. Among all, the P2.5 LED poster is the most famous model.
The standard LED poster display size is 640mm x 1920mm, and the full-screen size is 650mm x 1930mm with a protective edge.
YUCHIP LED poster's ultra-thin frame is 5mm wide, and the screen depth is 35mm. It uses uniquely designed tempered glass to protect the screen surface and avoids getting yellow and brittle after prolonged use.
LED Poster Product Categories
The poster LED screen has grown to be a star product and is spreading fastly worldwide in the LED display market. Due to its portable and movable features, the LED poster is widely used for retail stores, exhibitions, hotels, transportation, and more.
YUCHIP has successfully developed indoor and outdoor LED posters to meet market demands. All of the iPhone-style, indoor and outdoor poster LED supports multiple installations. For instance, movable wheels, hanging from the ceiling, ground standing, and wall-mounted.
Indoor P0.9 to P5. Full front service. No tempered glass. Ultra-thin design. LED poster screen size is changeable as per module size.
Pixel pitches P1.86, P2.0, P2.5, and P3. LED poster screen size 640x1920mm. Tempered glass. The most popular model.
Outdoor P2.5 to P5. IP65, 5500 – 6000 nits brightness. It has a more impactful visual experience than an LCD poster.
Why YUCHIP LED Poster
YUCHIP uses industry-leading materials and top-notch technology to create the best LED poster display. The poster LED has an outstanding visual performance and highly stable quality to get you quicker and higher ROI.
The poster LED uses high-quality Nationstar SMD1010 black LED and ICN2153 driver IC. It reaches a 5000:1 high contrast ratio and 3840HZ high refresh rate.
YUCHIP LED poster has a built-in media player, and it's "plug and play" easy to use. You can use our free App to upload images and videos. Check how to program LED posters.
An LED poster display can work independently. Meanwhile, you can connect multiple LED posters as one big screen through the HDMI cables (6pcs of P1.86 resolution is higher than Full HD). Check how to cascade LED posters.
Customize Your Own LED Poster
Besides the standard 640x1920mm LED poster size, we offer you customized LED posters of different sizes, resolutions, installation methods, etc. At the same time, our technical experts created the outdoor LED poster with state-of-the-art technology, which is highly scalable, reliable, and robust in features.
At YUCHIP, we can customize the IP level, such as IP65 that is waterproof, and the high brightness LED poster screen to your desire.
The sophisticated design of the poster LED has optional installation ways to fit your needs—for example, ground standing, movable wheels, wall-mounted, hanging from the ceiling, etc. Also, with regards to installation, YUCHIP will help and guide you. We will also provide you with manuals, technical support, and site visitation.
We can customize the poster display with GOB and COB technology for your LED poster rental purpose, which has a better anti-impact effect during frequent movement.
YUCHIP:

Your Professional LED Poster Manufacturer

As China's leading LED display manufacturer with 17 years of experience, YUCHIP is your excellent partner in supplying LED posters. Our management system complies with ISO9001-2015, and the outstanding products are certified by international standards. Also, our LED Poster Screen components (tangible and non-tangible parts) are from reliable brands. When it comes to software and control systems, YUCHIP trusts the following: Novastar, Linsn, LEDVISION, and LEDSet.

At YUCHIP, you'll discover our highly skilled team of marketing and technical experts are ready to tackle your LED poster project. You will receive an outstanding 24/7 service in the entire project management. Our R&D team is always available to hear your suggestions, preferred display size, and installation options. Furthermore, YUCHIP is a handful of manufacturers that provides quality LED display solutions and products and excellent services. Besides, YUCHIP's Digital LED Poster price is also affordable.

Our LED posters are popular as trade show LED displays, retail LED displays, and transportation LED screens. It is popular among places such as museums, offices, government establishments, malls, theaters (ticket booths and film halls), and a lot more.
Our Factory
Parameters
LED Poster Related Videos
LED Poster Latest Catalog
Pixel Pitch

P1.86

P2
P2.5

P3

Module Size (mm)

320 x 160

192 x 192

Module Resolution (pixels)

172 x 86

180 x 80

128 x 64

64 x 64

Cabinet Size (mm)

640 x 1920

576 x 1920

Scan Mode

1/43

1/40

1/32

Pixel Configuration

3 in 1

LED Lamps

SMD1515

SMD2121

Pixel Density(pixel/m²)

288888

250000

160000

111111

Brightness(cd/m²)

900

1000

Max. Consumption (W/m²)

600

550

Ave. Consumption (W/m²)

200

180

Cabinet Weight (kg)

55

Maintenance

Rear Side

Cabinet Material

Aluminum Profile

Front/Rear IP Level

IP45

Color Contrast Ratio

5000:1

Gray Grade

16bit

Refresh Frequency (Hz)

3840

Repetition Frequency (Hz)

50/60

View Angle (H/V)

160°/160°

Best Viewing Distance (m)

2

2.5

3

Working Voltage

AC110 / AC220V

Working Temperature (ºC)

-30~+80℃

Operation Humidity (RH)

0-95%

Display Lifetime (hours)

≥100000
LED Poster Display for Money Change Stores
(Chain stores in UK, Spain, Estonia, France, Finland, Denmark, USA )
(YUCHIP New LED Poster LED Digital Poster)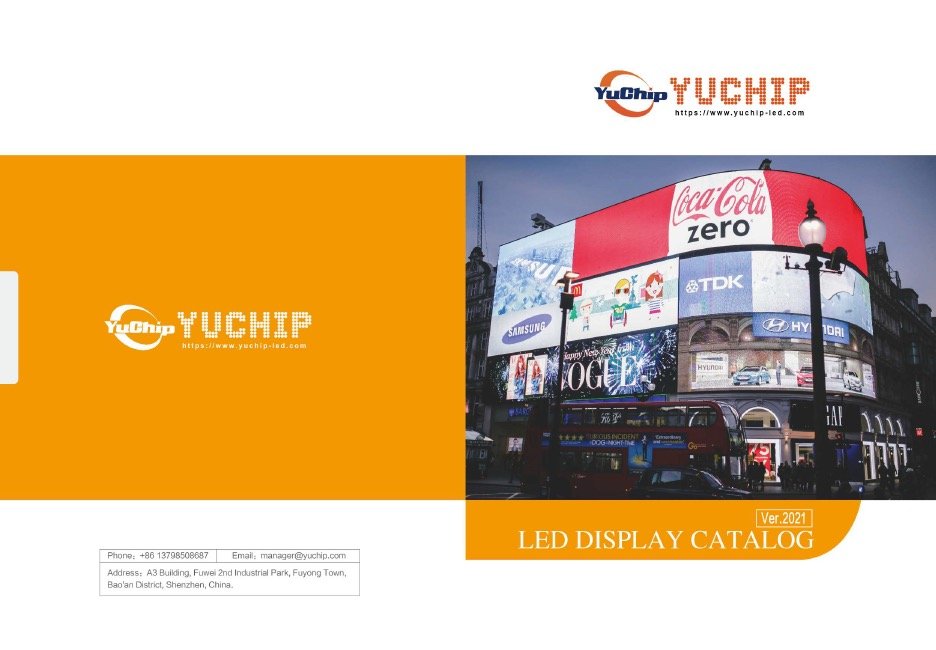 LED Poster: Ultimate FAQ Guide
(Digital LED Posters in Business Tower)
Suppose you use or buy an LED poster or LED iPoster, either for commercial or personal use. In that case, you may refer to our frequently asked questions regarding this new digital poster display technology. It will give you all the essential information about LED posters that may answer all the questions you have in mind.
If you still need further assistance, you may contact us, and we will reach out to you soon.
1. What Is An LED Poster Display?
(Four sets of LED Poster connected as one screen)
LED Poster or iPoster LED is an all-in-one standalone digital screen display. A portable bright LED poster display offers a modern alternative to advertise your brand, deliver your message, and broadcast promotions. It has an ultra-thin feature and is movable, so it is perfect to put in your storefront or anywhere you wish. It will not take up a lot of space, and it is effortless to install.
(LED Poster in Hotel to welcome the guests)
The Digital LED Poster is also lighter than other LED displays, so you may easily decide whether to install it standing on the floor, hanging on the ceiling, or mounted on the wall. Its bright and high-quality image will help you deliver your messages more effectively to your target market. It is also a great tool to draw potential customers or passersby.
Compared to traditional posters and other printed media, LED posters, when used as an ad material, are indeed more capable of displaying stunning images or audiovisual displays that can give your audience a unique viewing experience. This new digital poster display is fast spreading globally and widespread use in malls, hotels, airports, etc.
2. Is An LED Poster Display Cheaper Than A Regular LED Display?
(Two LED Posters, Hanging from Ceiling)
Yes, digital LED poster price is generally cheaper than other LED displays. The simplified cascading connection feature of the LED iposter makes it more affordable than the primary LED displays.
So, if you are a budget-minded individual looking for a great digital advertising option for your business or brand promotion, LED posters are an intelligent choice for you. LED posters can also project high-definition images and videos just like the other LED displays, so you are not compromising the quality of your presentation.
Moreover, Poster LED displays may also last for up to 10 years. With all things considered, it will cost you less to invest in an iPoster LED compared to any other form of digital or print campaign.
3. How Big Are LED Posters?
(Customized LED Poster Display with Different Size)
The standard size for an LED poster is 640mm (width) and 1920mm (height). We also have an LED iPoster with 560mm (width) and 1890mm (height) in size. However, if you are looking for a different size for your very own LED poster, we can work on that and custom-make it just for you.
(iPhone Style LED Poster, Can Custom Size)
Get in touch with us, and we promise to provide you with an LED poster that is perfect for your business and personal needs. For further inquiries, you may visit us on our website at https://www.yuchip-led.com/ or send us a message via email at manager@yuchip.com.
4. Can LED Posters Be Multiscreen?
(Few Pieces of LED Poster Can Work Separately or Connected as One Screen)
One of the best features of LED posters is that they can be used as a single standalone LED display, or you may join multiple LED signs to act as one big screen. The HDMI extender cascade connection makes joining your LED posters easy and becomes a bigger LED screen.
You may also opt to have multiple LED posters with different contents or have LED signs with the same contents and place those in various locations around your store or venue. It is really up to you. At YUCHIP, we can provide you with a wide array of LED posters suitable for your needs.  We have LED signs with 1.86, 1.875, 1.92, 2, and 2.5-pixel pitches.
We can also customize it for you. For your LED poster need, you may contact us at manager@yuchip.com. For more details, you may also log on to our website at https://www.yuchip-led.com/.
5. What Are The Uses Of LED Posters?
(LED Poster in Airport)
LED posters have multiple applications. These are now widely used as bright LED banners replacing traditional, old-fashioned printed display banners. These are now commonly used for commercial purposes in shopping malls or retail shops, train and bus stations, hotels, airports, restaurants, trade shows, or showrooms.
You may find it as well in cinemas, supermarkets, and museums. You can also use LED posters at weddings, concerts, birthdays, competitions, etc. You may use LED poster displays for a variety of purposes. You may use it to either promote your business, lure audiences, deliver a message, announce a promotion, or as decorative displays for your stores or in your events.
LED posters are highly flexible electronic devices you may use in any event. Feel free to send us a message, and we will guide you with your LED display needs.
6. How To Install An LED Poster Display?
The LED Poster is a more advanced digital display option that is easy to operate and install. LED posters allow multiple installation methods such as floor-standing installation, mounted onto the wall installation, lifting or hanging up by the ceiling (either horizontal or vertical)—tilted installation, creative splicing installation, and other installation methods you may think.
However, installing multiple LED poster displays is easy because of their thinner frames and lighter weight. You are free to think outside the box and make your LED poster displays more attractive to your target viewers.
LED posters are very versatile LED light posters that you can use indoors or outdoors. It is also brighter than an LCD digital poster three (3) times. If you are interested in LED poster display, don't hesitate to contact us or contact us at manager@yuchip.com, and we will be more than willing to assist you with your LED poster display project.
7. What File Formats Do LED Poster Support?
(YUCHIP LED Posters in SGI2020 Dubai)
LED posters offer multiple media file options. It supports all major file formats for videos and images.
Below are the image file formats that are supported by LED poster displays:
PNG – Portable Network Graphics
GIF – Graphics Interchange Format
BMP – Bitmap Image File
JPEG – Joint Photographic Experts Group
These are the file formats for videos that are compatible with LED display posters:
MP4 – MPEG-4 Part 14
MWV – Windows Media Video
AVI – Audio Video Interleave
MKV – Matroska Video File
FLV – Flash Video
MPG (MPEG) – Moving Picture Expert Group
The file mentioned above formats is available in your LED display's setup options. The LED Poster also has a built-in USB port and media player so that you may plugin and play your pre-made visual display. LED display posters are indeed one of the most advanced LED digital display options that you can find in the marketplace right now.
8. What Is A Good Viewing Angle For An LED Poster Display?
(Movable iPhone Style LED Poster Display)
The LED Poster offers a viewing angle of 160 degrees. The viewing angle is an important aspect to consider because it affects how your audience perceives your digital display's content. It tells you to what extent your audience can see the range of your LED poster displays without visual interference.
An excellent digital display must have a viewing angle of 120 degrees to 160 degrees. And since an LED poster has 160 degrees viewing angle, the images or visuals projected onto the Poster are visible even if it is moved 160 degrees from one side to another.
9. Are LED Posters Energy-Efficient?
LED posters generally save more energy than poster LCDs. LED posters are powered with LED, a lighting technology that is significantly energy efficient. It uses 75 percent less energy than incandescent light bulbs despite being brighter by almost three (3) times.
LED poster displays are bright enough to be seen even under broad daylight or through tinted glass windows. The brightness is adjustable, so you are assured that your LED banner display is visible at any time of the day and night. LEDs in posters are also proven to last longer for up to twenty-five times, making them energy-saving and environment-friendly.