Stadium LED Screen
The stadium LED screen is uniquely designed for perimeter, scoreboard, and ribbon LED in arenas, stadiums, pitches, pools, etc.
YUCHIP stadium LED screen pixel pitch includes 4mm, 5mm, 6mm, 8mm, 10mm to 16mm, and customized.
YUCHIP's stadium LED screen is certified with CE, RoHS, FCC, CCC, TUV-EMC, BIS, Saber, and more.
We have started manufacturing both indoor and outdoor stadium LED screens since 2004.
Stadium LED Screen Product Categories
Stadium LED screen creates a more intense atmosphere at national or international competitions. Due to stadium LED display's vast benefits, sports screen has realized significant growth in arenas, stadiums, pitches, pools, rinks, etc.
YUCHIP R&D team utilizes industry number one materials, and top-notch technology to create the best stadium LED display. Over the past 16 years, YUCHIP know-how engineers created LED perimeter boards, scoreboards, and ribbon boards. It ensures your maximum spectator visibility from all directions in the stadium.
LED perimeter boards' modernity and dynamism successfully help enhance your club image and unlock advertising revenue. It significantly showcased the sponsors' brand.
LED scoreboard offers you the precious opportunity to deploy dynamic and effective display scores, broadcast ads, and various broadcast multimedia content.
LED ribbon board allows you vivid and exceptionally bright moving images and videos as pitch-side advertising. It successfully generates a new income stream for your club.
Why YUCHIP Stadium LED Screen
YUCHIP know-how engineers work closely with customers to design and offer industry-leading LED perimeter boards. We creatively created LED perimeter boards that have significant advantages compared to traditional sport screen signage.
Soft module mask and soft pillow unique designs protect your players from being hurt when players crash into LED perimeter board;
Adjustable back brackets structure realize wider viewing angle and reach more audience that brings more sports enjoyment and advertising revenue;
A high refresh rate frequency and dual computer control system ensures you a flickering-free and interruption-free sports event broadcast and LED advertising.
Customize Your Own Stadium LED Screen
Stadium LED screen easily captures your spectator's attention and adds to the enjoyment of all. We can imagine that all advertising agencies and clubs are thinking and planning to use a LED display efficiently at the most significant value.
YUCHIP is supplying the stadium LED display equipped with both rental LED display and stadium LED display structures. Besides that, we can customize your stadium LED screen in tailored size, pixel pitch (resolution), and design.
 At YUCHIP, we can customize both outdoor and indoor stadium LED screens to your desire.
We can customize stadium LED displays in different viewing distances and resolutions (from P2.5 to P10) to maximize your advertising revenues within a budget.
YUCHIP can offer you a unique design stadium LED screen, for example, a 90 degree, flexible back bracket structure LED perimeter board, rental and fixed use LED scoreboard, etc.
YUCHIP:

Your Professional Stadium LED Screen Manufacturer

YUCHIP is your best stadium LED screen manufacturer, started in 2004. We have rich experience in manufacturing and supplying stadium LED screens globally. The stadium LED screen works for football, basketball, cricket, ice hockey events, and more.

As China leading LED display manufacturer with 17 years of experience, YUCHIP is your excellent partner to supply stadium LED displays. Our management system complies with ISO9001-2015, and the outstanding products are certified by international standards.

At YUCHIP, you'll discover our highly skilled team of marketing and technical experts are ready to tackle your stadium LED display project. You will receive an outstanding 7/24 service in the entire project management.
Latest Stadium LED Screen Projects We Finished
P16 LED Perimeter Boards In Belgium
It utilizes a P16 outdoor solution with DIP LED technology. Its aluminum material cabinet has better heat dissipation and stable performance.
P8 Football Stadium LED Display In Romania
The P8 stadium LED display uses a high-quality Nationstar gold wire SMD3535 LED with a large viewing angle and excellent color uniformity.
P16 Stadium LED Scoreboard In Hungary
The LED scoreboard uses high-end MBI5153 IC, and it has a 3840HZ high refresh frequency to deliver audience flicker-free broadcast.
P10 Football LED Display In Brazil
The P10 football LED display works as an LED scoreboard and rental LED display. It adopts an ultra-thin, lightweight, and fast connection.
Our Factory
Parameters
Stadium LED Screen Related Videos
Stadium LED Screen Latest Catalog
Pixel Pitch

4.16

5
6.25

8.33

10
Pixel Configuration

SMD1921

SMD2727

Panel Resolution

96 x 72

86 x 60

64 x 48

48 x 36

40 x 30

Panel Dimension

400 x 300mm

Pixel Density

57600

40000

25600

14400

10000

Panel Weight

22.4 kg

Brightness

6500

Brightness/Chromaticity Uniformity

≥99%

Flatness Of The Cabinet

<=0.01

Module

2 x 3

Resolution

192 x 216

160 x 180

128 x 144

96 x 108

80 x 90

Display Work Method

1/6 scan

1/3 scan

1/2 scan

Contrast

5000:1

Greyscale

65536

Refresh Rate

3840

Ip Rating

IP65

Operating Temperature/Humidity Range(℃/RH)

-20~60℃ / 10%~85%

Storage Temperature/Humidity Range(℃/RH)

-20~60℃ / 10%~85%

Perspective

160°/ 160°

Color Temperature (K)

3200-9300
(P8 Perimeter LED Boards with Adjustable Back Bracket)
(YuChip P16 LED Scoreboard for Cricket Stadium in Hyderabad)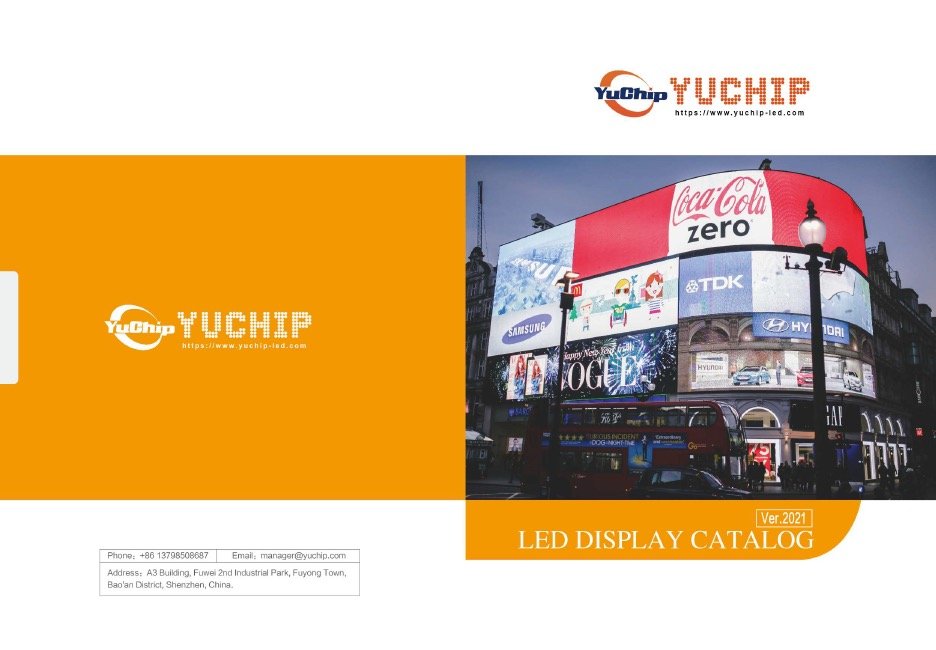 Stadium LED Screen: Ultimate FAQ Guide
1. What Is A Stadium LED Screen?
(P8 LED Perimeter Boards and P6 LED Scoreboard in Hungary)
Stadium LED screens are highly advanced technology that delivers bright, vivid images and interactive audiovisual displays during sports events.
Stadium LED screen display is a multi-function digital display ideal for presenting the game score, players' profile and live performance, game clock, and other game-related information and happenings. They produced vibrant colors and imaginative effects which give the users, players, and game spectators a better viewing experience.
Typically, they are wireless and easy-to-use technology that decorates your venue in a very finesse and subtle way. Additionally, stadium LED displays also serve as a direction guide for the audiences and pitch-side advertising boards (for commercial purposes) at the event's place.
If you compare stadium LED screens with other LED screens, there is not much difference in their brightness, viewing angle, and overall quality. However, from a business vantage point, LED screens in your stadium may help you fill more seats, attract more sponsors, and add value to your sports arena.
Stadium LED screens, which are helpful during concerts as well, are a must in all stadiums. LED stadium display is a go-to solution if you want to give any stadium an enhanced professional image that adds value to the place.
2. What Are The Main Features Of The Stadium LED Screen?
(P16 LED Perimeter Boards in Costa Rica)
Stadium LED screen is a popular digital display used in almost every sporting event. It is designed to have unique features that make it an ideal display choice in stadiums.
High Refresh Rate. Screens for stadium displays have a high refresh rate to achieve a flicker-free image and video broadcast video. This feature is essential if you want to deliver a good viewing experience to your audience.
Soft Masks and Pillows Protection. Stadium LED screens have a soothing module mask and pillow on top of each LED display cabinet. The cover and pillows are added for the protection of both the LED display and the players. The coverings help ensure that no players will be hurt if they accidentally bump into or hit the LED displays. Once the game is over, you may opt to remove the mask of modules and pillow on the LED cabinets and use your stadium LED screen as a rental or regular LED display.
Hang Up Installation. Rented Stadium LED screens are securely hanged and attached to a hanging beam and steel bar gantry for easy dismantling.
Fast Lock Mechanism. Stadium LED screens have secured lockers on every side for a quick and easy assembly or installation. This kind of locking system requires less time and staff.
Flight Case/Container Packaging. This returnable packaging system makes it easy to transport the LED screens from one place to another. The cases and containers secure and protect your LED screens during transport.
Weather Resistant. Stadium LED screens are resistant to all weather conditions. So, no matter the weather (as long as it is bearable), the game is still on.
Easy and Dual Control System. Two computers (one as backup) usually serve as controllers for your stadium display boards. The dual computer control system ensures that there will be no unnecessary interruptions with your stadium video screens.
3. What Are The Ways Stadium LED Screens Can Be Used?
(P8 Football LED Advertising Display)
If you have watched a game in a stadium, you'd know that LED screens can be found almost everywhere you look. Stadium LED screens became in demand for more than one reason. Aside from showing game scores or a digital game clock, the stadium LED screen offers multiple applications.
Direction Guide. You can use your LED screens to guide your audience where to go. Stadiums tend to be very big. Installing ceiling-suspended or wall-mounted LED signages is helpful to locate the place where the audience wants to be.
Live Video Monitor. When you have a big crowd in a venue like a stadium, a live video monitor ensures that everyone still gets to see the game regardless of where they are seated. The LED monitor gives the whole crowd a zoom-in video display of every action in the field.
Brand Advertising. Your sponsors will be happy to see their brand name and logo in almost every corner of the venue. Make sure to generate more profit or funding by making your sponsors happy.
Entertainment Screen. You can play entertaining videos to entertain your audience during breaks. For example, you may play a rerun of the previous game or the best reactions during the game interval. The entertainment factor in between matches adds to the viewing experience of the audience.
Communication Channel. LED screens may serve as a medium to communicate with the whole audience. When someone's car needs moving, you can inform the owner without making an interruption.
4. Are Stadium LED Screens Customizable?
(P4.8 LED Scoreboard and P8 Stadium LED Screen)
Yes, stadium LED screens are customizable according to your event's requirements and needs. You can use LED perimeter boards to cover a whole kilometer stretch of the stadium if needed.
Large stadium LED display screens are modular. They achieved those huge sizes by combining multiple LED modules. The numerous panels are connected seamlessly and programmed to function as one big led display in a sports event. So, whether you want to have a video scoreboard or LED stadium advertising boards, you can order it in any size you prefer. All the provider needs to do is add or reduce LED panels until they reach the desired size.
If you are looking for a stadium LED display supplier to create or provide you with a customized LED screen, you may contact us and tell us more about it.  We will earnestly work on that. Our goal is to provide our clients with custom-made stadium and arena LED screens that match their LED display needs.
5. How Can I Benefit From Investing In A Stadium LED Screen?
(P10 Stadium LED Display in UAE)
Investing in a stadium LED screen constitutes many benefits. It is a multifunctional and very flexible display technology used in almost every part of the world.
These are the following benefits that you can take advantage of, making investing in the right LED display worthwhile.
Marketing Opportunities. A stadium is a place that can hold thousands of live audiences. Millions of people watch sports events.  A sports event held in a stadium is an exceptional opportunity to promote brands and businesses. Having high-quality digital stadium LED displays significantly boosts your chances to acquire sponsorships. More advertising opportunities you provide, the more income you can generate.
Navigation Provider. Being lost in a bright, noisy, crowded place like a stadium is highly likely to happen. Digital signages help your audiences to find the location of seats, booths, and other amenities. These signs also lessen your need for additional ushers or personnel to assist your audience.
Better Crowd Experience. The bright and clear LED displays alleviate your audience's experience.  Without those big football LED displays, the crowd would not be as engaged as in a football game. The fans and supporters are what make sports alive. We have to keep them happy and satisfied with their viewing experience.
Long-term Investment. Stadium LED screens have a long lifespan compared to other digital and traditional displays.  If used with the utmost care, quality stadium screens can stand the test of time and be functionally operational for up to more than a decade.
Easy-to-operate Digital Display. Operating a basketball arena scoreboard or soccer stadium advertising board is no different from using smartphones or laptops. You can manage it using a phone app or via your computer. Day or night, you can make these LED screens operational. You can achieve accurate displays with minimal workforce needed.
6. Do Stadium LED Screens Require A Fixed Installation?
(2pcs P8 Stadium LED Scoreboard in Brasil)
Stadium LED displays are removable and movable for your next sports event.
The LED perimeter boards have lock and unlock connectors that are easy fast to connect. This feature enables a quick and easy assembling and dismantling of stadium LED screens. The flight case packaging system makes the shipping and transportation of LED screens safe and uncomplicated.
LED perimeter board displays installed in arenas or stadiums should leave a path for emergency use in some parts of the world. However, field-side stadium LED displays should be continuous and not have a gap between LED screen connections. YUCHIP developed stadium LED screens with a movable base for up to 90 degrees to settle this issue.
Because of these innovative features of stadium LED screens, you can use your LED displays today and pack them after and use them again for your next event. But if you wish to have a fixed installation for your stadium LED screen display, we can work on that for sure.
If you want to know about the services we provide, log on to our website at www.yuchip-led.com.
7. Is The Stadium LED Screen Weatherproof?
(184sqm P16 LED Stadium LED Display in Cricket Stadium)
Stadium LED screens, especially those installed outdoors, are weather resistant. Compared to LED screens installed indoors, outdoor stadium screen displays have a higher IP rating. IP rating, also known as Ingress Protection, is the effectiveness of LED screen enclosures against foreign elements such as tools, dust, dirt, and moisture.
Stadium LED displays outdoors require a higher IP rating because out-of-doors locations have a harsher environment. For example, an LED screen with an IP65 rating is water-resistant. This IP rating means that the screens have protection against penetration and hazard caused by water from a waterjet or rain.
Water-resistant LED screens are not to be confused with waterproof screens. LED screens only have protection against moisture and water, but they should not be submerged or dumped in water no matter what.
If you want to check out the IP rating chart, you can find one on our website. This rating chart is an international standard used and followed by the entire LED industry in all parts of the world.
8. What Is The Cost Price Of The Stadium LED Screen?
(P10 Scoreboard LED Display in Zhengzhou)
Just like any other LED display, stadium LED screens' cost price is dependent on various factors. Stadium screen price is affected by its size, installation requirements, pixel value, and others. It is best to contact your LED screen provider about this concern.
An LED screen solution provider gives a price quote for your LED display project. This quote is considerate of your event's requirements, which you will have to provide to your supplier. This document, a price estimate, is a detailed written explanation of the pricing of the products and services you intend to render.
You have to put in mind that a price quote is only valid for a limited time. For instance, a price quote may indicate that it is only valid for 60 days upon issuance. The validity of a price quote varies from different suppliers.
If you have an upcoming sports event or organizing a competition, you may reach out to us and tell us about it. We are here to help you with the digital display aspect of your project.
YUCHIP has been providing quality LED display services globally since 2004. We can assure you that we will provide you with a top-notch LED display solution for a very reasonable price. Please send us an email at manager@yuchip.com.
9. How To Choose The Best Stadium LED Screen Provider?
(2pc x 86sqm LED Scoreboard in MTK Stadium)
Here in China, there are several providers of stadium LED screens that you can find. Use the information below as your guide to ensure the LED display solution and services you need to accomplish your project or event.
Testimonials. Look for reviews and feedback from previous clients to know their experience with the LED providers. Positive reviews are an indication that the LED screen supplier or provider can deliver.  Use the testimonials of customers like you to help you decide whether you are choosing the right provider.
Years in the Service. While young LED manufacturers can provide you with LED products and services that may satisfy you, companies that exist way longer can do the same and more. Most of the time, LED manufacturers that stand the test of time are reliable LED screen providers. Staying in business for a long time means that they are doing a fantastic job.
Quality Products. This one is a no-brainer. Who does not want quality products? No one. You may check the website of your provider to see the quality of their products. Read about the product's parameters and specifications to check if those match your project needs.
Experienced and Well-trained Personnel. Work with well-experienced people and expect a positive result. Get a feel when you start talking to them. You will know if they know what they are doing by observing how they present to you their solutions. Real experts in their field will give you concrete and well-thought-out LED solutions aligned to your needs.
YUCHIP believes that the qualities mentioned above are within us. We have been one of the leading providers of LED solutions in China since 2004. You may check out our website to know more about us. You may also email us at manager@yuchip.com.
10. What Sports Events Utilize A Stadium LED Display?
(P6.25 LED Basketball Scoreboard in Budapest)
When there are stadiums and arenas, there are LED displays for sure. Almost every sports event uses LED displays to improve the players' overall experience, the audience, and everyone involved. Whether it is for better viewing purposes, commercial purposes, convenience purposes, stadium LED screens deliver.
You can see LED screens in the stadiums as a basketball arena scoreboard, football LED advertising display or soccer stadium advertising boards, and the list goes on. Stadium LED screens are helpful for indoor and outdoor sports events such as:
Indoor. Basketball, volleyball, indoor soccer, swimming competition, an ice hockey game, ice skating match, badminton, gymnastics, etc.
Outdoor. Track and field, football, soccer, triathlons, marathon, and many more.
Though not sports events, pageant competitions, and concerts held in a stadium also use LED displays to the better overall viewing experience.
---
Hungary's P4 Stadium LED Screen From YUCHIP
1. Introduction
YUCHIP took on another milestone for the stadium LED screen series. One of our most recent projects took place in Hungary.
Hungary is an avid supporter of our products in which we were able to supply most of their sports LED displays in their respective sports venues.
YUCHIP has concluded several stadium LED screen projects in the said country. We also have some partners and distributors, making our venture easier and feasible in the area.
Some of our previous projects in Hungary are the following:
In this post, we will share some details of our recent project, the P4 Stadium LED screen, below.
2. P4 Stadium LED Screen Project Details
YUCHIP has ventured on a 17-long year service and expertise in producing stadium LED screens for global needs. Our sports LED displays are reliable, dependable, have high quality, and are of long service.
Furthermore, here are some of the details of our P4 stadium LED screen project in Hungary.
It utilized a P4 LED screen for a stadium.
We installed it in an outdoor stadium; that's why the LED screen is equipped with IP65 protection both for the front and rear sides.
The project utilized a column installation method (single-column).
It can be used as an information board displaying scores, participants' names and details, game status, timer, and an advertising screen.
Dual maintenance is applied to the LED screen as you can maintain it on both front and rear sides. Both are feasible for staffing and have good space for preservation.
Should you need a stadium LED screen, please get in touch with us today.
3. Tips On Choosing Stadium LED Display For Your Needs
In choosing what kind of LED screens are best for your stadium, there are some considerations that you need to address first. These are the things that will allow you and your LED provider to select the stadium display boards that are perfect for you.
First off, you have to settle where you are going to install the perimeter LED displays. There are stadium LED screens that are more suitable outdoors because they have added defense against the outside environment. The extra layers of protection are not needed in indoor stadium LED screens.
It is not always true that you need to choose the LED screens with the highest brightness. The outdoor stadium LED signages are consistently brighter than those of the indoor, and vice versa. Choosing only the stadium screens with the right level of brightness guarantees safety, stability, and longevity.
The location of the installation tells you the method and requirement for installation. First, it is necessary to identify whether you will have your stadium screen wall-mounted, hanged on the ceiling, or grounded. Your answers to these questions determine the suitable LED screens for your digital scoreboard and ad display.
Choose stadium LED screens with a high refresh rate to achieve a flicker-free video display. A high refresh rate is a must for a great viewing experience.
Viewing Distance And Viewing Angle
Inform your provider about the viewing distance and seating arrangement of your audience. It will help you and your LED provider choose the correct pixel value for your stadium screens.
4. Why Is LED Display Vital For Sports Events?
Sports these days are becoming grander and remarkable. In some ways, it is with higher standards and qualifications and the venue where it takes place. Thus, sports analysts, organizers are making ways to uplift sports in many ways.
Sports, on the other hand, is one of the aspects LED displays have influenced well. LED Displays surprises us with their wide application; they're not only for business-related stuff but also recreational activities.
Little did we know, LED displays in stadiums, arenas, tracks, and velodromes do not only serves as displays.
They primarily serve as signage or screen that shows game mechanics, participants' names, messages, acknowledgment of sponsors, announcements, and advertisements.
Also, it serves as a time clock. Its size is big enough to give everyone access to information about the game. Since it is designed for large venues with a big crowd, it can display information vividly, even at a distance.
The sports LED display also serves as a perimeter with an easy access feature in emergencies like accidents. It acts as a barrier between the players and spectators. You might ask, will it break if the ball or a player hits it? The answer is a big NO. They don't easily break or damage any game-related actions because they are designed to be force-resistant.
In a better way, LED displays influences our lives, all aspects of it. It improves our daily activities, helps us connect with people in the easiest way possible.
5. Conclusion
YUCHIP is headquartered in Shenzhen, China. Since 2004, we've started exporting LED screens to various countries worldwide. Apart from manufacturing products, we are also expanding our market by involving citizens in partnering with us.
YUCHIP has some distributors in Hungary. In this way, while globalizing our products, we also give various individuals opportunities by helping us get more clients. You can be part of our team through a partnership program.
Furthermore, YUCHIP has high standards and has a great identity in the field. We are a global name you can trust with your LED display needs.
Please let us know how we can help you.