Stadium LED Screen
The stadium LED screen is uniquely designed for perimeter, scoreboard, and ribbon LED in arenas, stadiums, pitches, pools, etc.
YUCHIP stadium LED screen pixel pitch includes 4mm, 5mm, 6mm, 8mm, 10mm to 16mm, and customized.
YUCHIP's stadium LED screen is certified with CE, RoHS, FCC, CCC, TUV-EMC, BIS, Saber, and more.
Stadium LED Screen Product Categories
Stadium LED screen creates a more intense atmosphere at national or international competitions. Due to stadium LED display's vast benefits, sports screen has realized significant growth in arenas, stadiums, pitches, pools, rinks, etc.
YUCHIP R&D team utilizes industry number one materials, and top-notch technology to create the best stadium LED display. Over the past 16 years, YUCHIP know-how engineers created LED perimeter boards, scoreboards, and ribbon boards. It ensures your maximum spectator visibility from all directions in the stadium.
LED perimeter boards' modernity and dynamism successfully help enhance your club image and unlock advertising revenue. It significantly showcased the sponsors' brand.
LED scoreboard offers you the precious opportunity to deploy dynamic and effective display scores, broadcast ads, and various broadcast multimedia content.
LED ribbon board allows you vivid and exceptionally bright moving images and videos as pitch-side advertising. It successfully generates a new income stream for your club.
Why YUCHIP Stadium LED Screen
YUCHIP know-how engineers work closely with customers to design and offer industry-leading LED perimeter boards. We creatively created LED perimeter boards that have significant advantages compared to traditional sport screen signage.
Soft module mask and soft pillow unique designs protect your players from being hurt when players crash into LED perimeter board;
Adjustable back brackets structure realize wider viewing angle and reach more audience that brings more sports enjoyment and advertising revenue;
A high refresh rate frequency and dual computer control system ensures you a flickering-free and interruption-free sports event broadcast and LED advertising.
Customize Your Own Stadium LED Screen
Stadium LED screen easily captures your spectator's attention and adds to the enjoyment of all. We can imagine that all advertising agencies and clubs are thinking and planning to use a LED display efficiently at the most significant value.
YUCHIP is supplying the stadium LED display equipped with both rental LED display and stadium LED display structures. Besides that, we can customize your stadium LED screen in tailored size, pixel pitch (resolution), and design.
 At YUCHIP, we can customize both outdoor and indoor stadium LED screens to your desire.
We can customize stadium LED displays in different viewing distances and resolutions (from P2.5 to P10) to maximize your advertising revenues within a budget.
YUCHIP can offer you a unique design stadium LED screen, for example, a 90 degree, flexible back bracket structure LED perimeter board, rental and fixed use LED scoreboard, etc.
YUCHIP:

Your Professional Stadium LED Screen Manufacturer

YUCHIP is your best stadium LED screen manufacturer, started in 2004. We have rich experience in manufacturing and supplying stadium LED screens globally. The stadium LED screen works for football, basketball, cricket, ice hockey events, and more.

As China leading LED display manufacturer with 17 years of experience, YUCHIP is your excellent partner to supply stadium LED displays. Our management system complies with ISO9001-2015, and the outstanding products are certified by international standards.

At YUCHIP, you'll discover our highly skilled team of marketing and technical experts are ready to tackle your stadium LED display project. You will receive an outstanding 7/24 service in the entire project management.
Our Factory
Parameters
Stadium LED Screen Related Videos
Stadium LED Screen Latest Catalog
Pixel Pitch

4.16

5
6.25

8.33

10
Pixel Configuration

SMD1921

SMD2727

Panel Resolution

96 x 72

86 x 60

64 x 48

48 x 36

40 x 30

Panel Dimension

400 x 300mm

Pixel Density

57600

40000

25600

14400

10000

Panel Weight

22.4 kg

Brightness

6500

Brightness/Chromaticity Uniformity

≥99%

Flatness Of The Cabinet

<=0.01

Module

2 x 3

Resolution

192 x 216

160 x 180

128 x 144

96 x 108

80 x 90

Display Work Method

1/6 scan

1/3 scan

1/2 scan

Contrast

5000:1

Greyscale

65536

Refresh Rate

3840

Ip Rating

IP65

Operating Temperature/Humidity Range(℃/RH)

-20~60℃ / 10%~85%

Storage Temperature/Humidity Range(℃/RH)

-20~60℃ / 10%~85%

Perspective

160°/ 160°

Color Temperature (K)

3200-9300
(P8 Perimeter LED Boards with Adjustable Back Bracket)
(YuChip P16 LED Scoreboard for Cricket Stadium in Hyderabad)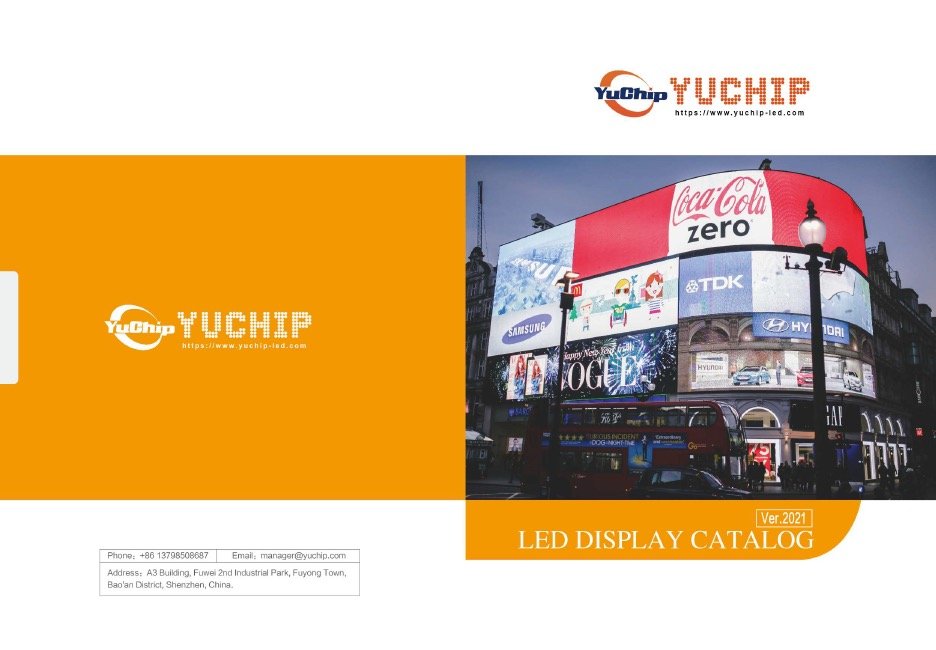 Stadium LED Screen: Ultimate FAQ Guide
1. What Is A Stadium LED Screen?
(P8 LED Perimeter Boards and P6 LED Scoreboard in Hungary)
Stadium LED screens are highly advanced technology that delivers bright, vivid images and interactive audiovisual displays during sports events.
Stadium LED screen display is a multi-function digital display ideal for presenting the game score, players' profile and live performance, game clock, and other game-related information and happenings. They produced vibrant colors and imaginative effects which give the users, players, and game spectators a better viewing experience.
(2pcs P8 Stadium LED Scoreboard in Brasil)
Typically, they are wireless and easy-to-use technology that decorates your venue in a very finesse and subtle way. Additionally, stadium LED displays also serve as a direction guide for the audiences and pitch-side advertising boards (for commercial purposes) at the event's place.
If you compare stadium LED screens with other LED screens, there is not much difference in their brightness, viewing angle, and overall quality. However, from a business vantage point, LED screens in your stadium may help you fill more seats, attract more sponsors, and add value to your sports arena.
Stadium LED screens, which are helpful during concerts as well, are a must in all stadiums. LED stadium display is a go-to solution if you want to give any stadium an enhanced professional image that adds value to the place.
2. What Are The Main Features Of The Stadium LED Screen?
(P16 LED Perimeter Boards in Costa Rica)
Stadium LED screen is a popular digital display used in almost every sporting event. It is designed to have unique features that make it an ideal display choice in stadiums.
High Refresh Rate. Screens for stadium displays have a high refresh rate to achieve a flicker-free image and video broadcast video. This feature is essential if you want to deliver a good viewing experience to your audience.
Soft Masks and Pillows Protection. Stadium LED screens have a soothing module mask and pillow on top of each LED display cabinet. The cover and pillows are added for the protection of both the LED display and the players. The coverings help ensure that no players will be hurt if they accidentally bump into or hit the LED displays. Once the game is over, you may opt to remove the mask of modules and pillow on the LED cabinets and use your stadium LED screen as a rental or regular LED display.
Hang Up Installation. Rented Stadium LED screens are securely hanged and attached to a hanging beam and steel bar gantry for easy dismantling.
(P10 Scoreboard LED Display in Zhengzhou)
Fast Lock Mechanism. Stadium LED screens have secured lockers on every side for a quick and easy assembly or installation. This kind of locking system requires less time and staff.
Flight Case/Container Packaging. This returnable packaging system makes it easy to transport the LED screens from one place to another. The cases and containers secure and protect your LED screens during transport.
Weather Resistant. Stadium LED screens are resistant to all weather conditions. So, no matter the weather (as long as it is bearable), the game is still on.
Easy and Dual Control System. Two computers (one as backup) usually serve as controllers for your stadium display boards. The dual computer control system ensures that there will be no unnecessary interruptions with your stadium video screens.
3. What Are The Ways Stadium LED Screens Can Be Used?
(P8 Football LED Advertising Display)
If you have watched a game in a stadium, you'd know that LED screens can be found almost everywhere you look. Stadium LED screens became in demand for more than one reason. Aside from showing game scores or a digital game clock, the stadium LED screen offers multiple applications.
Direction Guide. You can use your LED screens to guide your audience where to go. Stadiums tend to be very big. Installing ceiling-suspended or wall-mounted LED signages is helpful to locate the place where the audience wants to be.
Live Video Monitor. When you have a big crowd in a venue like a stadium, a live video monitor ensures that everyone still gets to see the game regardless of where they are seated. The LED monitor gives the whole crowd a zoom-in video display of every action in the field.
Brand Advertising. Your sponsors will be happy to see their brand name and logo in almost every corner of the venue. Make sure to generate more profit or funding by making your sponsors happy.
Entertainment Screen. You can play entertaining videos to entertain your audience during breaks. For example, you may play a rerun of the previous game or the best reactions during the game interval. The entertainment factor in between matches adds to the viewing experience of the audience.
Communication Channel. LED screens may serve as a medium to communicate with the whole audience. When someone's car needs moving, you can inform the owner without making an interruption.
4. Are Stadium LED Screens Customizable?
(P4.8 LED Scoreboard and P8 Stadium LED Screen)
Yes, stadium LED screens are customizable according to your event's requirements and needs. You can use LED perimeter boards to cover a whole kilometer stretch of the stadium if needed.
Large stadium LED display screens are modular. They achieved those huge sizes by combining multiple LED modules. The numerous panels are connected seamlessly and programmed to function as one big led display in a sports event. So, whether you want to have a video scoreboard or LED stadium advertising boards, you can order it in any size you prefer. All the provider needs to do is add or reduce LED panels until they reach the desired size.
If you are looking for a stadium LED display supplier to create or provide you with a customized LED screen, you may contact us and tell us more about it.  We will earnestly work on that. Our goal is to provide our clients with custom-made stadium and arena LED screens that match their LED display needs.
5. How Can I Benefit From Investing In A Stadium LED Screen?
(P10 Stadium LED Display in UAE)
Investing in a stadium LED screen constitutes many benefits. It is a multifunctional and very flexible display technology used in almost every part of the world.
These are the following benefits that you can take advantage of, making investing in the right LED display worthwhile.
Marketing Opportunities. A stadium is a place that can hold thousands of live audiences. Millions of people watch sports events.  A sports event held in a stadium is an exceptional opportunity to promote brands and businesses. Having high-quality digital stadium LED displays significantly boosts your chances to acquire sponsorships. More advertising opportunities you provide, the more income you can generate.
(184sqm P16 LED Stadium LED Display in Cricket Stadium)
Navigation Provider. Being lost in a bright, noisy, crowded place like a stadium is highly likely to happen. Digital signages help your audiences to find the location of seats, booths, and other amenities. These signs also lessen your need for additional ushers or personnel to assist your audience.
Better Crowd Experience. The bright and clear LED displays alleviate your audience's experience.  Without those big football LED displays, the crowd would not be as engaged as in a football game. The fans and supporters are what make sports alive. We have to keep them happy and satisfied with their viewing experience.
Long-term Investment. Stadium LED screens have a long lifespan compared to other digital and traditional displays.  If used with the utmost care, quality stadium screens can stand the test of time and be functionally operational for up to more than a decade.
Easy-to-operate Digital Display. Operating a basketball arena scoreboard or soccer stadium advertising board is no different from using smartphones or laptops. You can manage it using a phone app or via your computer. Day or night, you can make these LED screens operational. You can achieve accurate displays with minimal workforce needed.
6. How To Choose The Best Stadium LED Screen Provider?
(2pc x 86sqm LED Scoreboard in MTK Stadium)
Here in China, there are several providers of stadium LED screens that you can find. Use the information below as your guide to ensure the LED display solution and services you need to accomplish your project or event.
Testimonials. Look for reviews and feedback from previous clients to know their experience with the LED providers. Positive reviews are an indication that the LED screen supplier or provider can deliver.  Use the testimonials of customers like you to help you decide whether you are choosing the right provider.
Years in the Service. While young LED manufacturers can provide you with LED products and services that may satisfy you, companies that exist way longer can do the same and more. Most of the time, LED manufacturers that stand the test of time are reliable LED screen providers. Staying in business for a long time means that they are doing a fantastic job.
(P6.25 LED Basketball Scoreboard in Budapest)
Quality Products. This one is a no-brainer. Who does not want quality products? No one. You may check the website of your provider to see the quality of their products. Read about the product's parameters and specifications to check if those match your project needs.
Experienced and Well-trained Personnel. Work with well-experienced people and expect a positive result. Get a feel when you start talking to them. You will know if they know what they are doing by observing how they present to you their solutions. Real experts in their field will give you concrete and well-thought-out LED solutions aligned to your needs.
YUCHIP believes that the qualities mentioned above are within us. We have been one of the leading providers of LED solutions in China since 2004. You may check out our website to know more about us. You may also email us at manager@yuchip.com.