LED Wall Display Hot Cases
---
Since YUCHIP started in 2004, it has manufactured hundreds of LED display products designated to various projects in different countries. The core goal of outstanding service and quality products is our leading cause, and it applies one way or another in every case we handle. 
Our LED Display products continue to develop, and we effort to integrate the latest and the most exemplary technological application all the time and over time.
---
Product Related Information
YUCHIP is located in Shenzhen, China. Our brand has reached international prominence since our early years in the business. And our primary goal is to provide LED Display products, solutions, and services to various individuals, businesses, events, industries regarding brand awareness, decorative purposes, information sharing, and most importantly, advertising.
Over time, our products have reached many countries across different continents to provide customized and quality LED displays. We've served and offered small business owners, event organizers, businessmen of other industries to usual individuals. We ought to seek the best way to help you leverage the fields you're into.
We've proven our good reputation in the industry in the long run through our all-out feedback from our clients and business partners. And it is our pleasure to serve you as well.
Our Factory
Applications
Related Videos
Latest Catalog
LED Display is a manifestation of our ongoing hunger to upgrade every inch of our lives. The technology and advancement we put in our product hope to create more meaningful business results.
Here are products we offer in YUCHIP that you can choose from. Also, we customize the LED Display of your preference.
On the other hand, below are locations where you can apply the LED Wall. Besides, LED Wall is applicable in both environments; indoor and outdoor.
Exhibits
Conferences
Concerts
School and School Programs
Summit And International Affairs
Sporting Venues, Arenas, Stadiums, etc.
Banks, Shopping Malls, Airports, etc.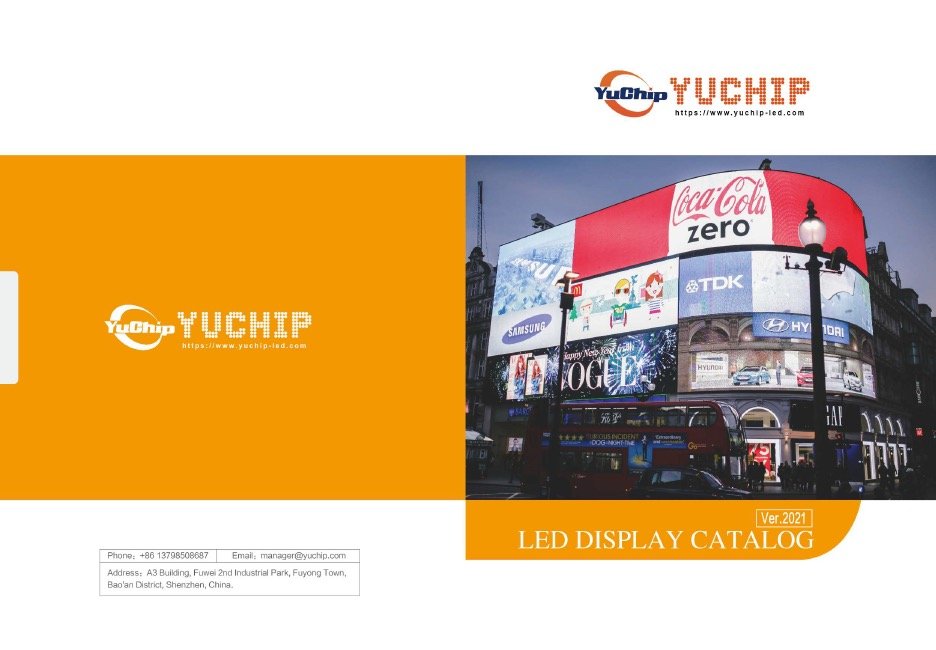 LED Wall: What You Need To Know
1. What Is An LED Wall?
LED walls have become the new standard for an impressive digital display to attract attention and promote products, services, and messages.
An LED wall is usually a large LED screen display mounted on walls, ceilings, and the exterior part. It contains multiple LED screen panels seamlessly connected to form a giant LED screen.
The scalability of the LED wall is why it has become an ideal choice for digital display. So it allows customizing the size of an LED screen display that you prefer.
It delivers high-quality pictures. It uses LED lights with independent RGB colors to give your display vibrant quality.
Throughout the years that LED walls have been utilized for advertising and marketing channels, they have demonstrated effectiveness in delivering messages captivating and engaging.
Studies show that viewers and audiences are more likely to look at your ad or message when displayed on a stunning LED screen instead of printed on a poster.
2. What Are The Uses Of The LED Wall?
LED walls are used for a variety of reasons. It is either used as a decorative LED display screen in various events or as a marketing digital tool for advertising businesses and brands.
We listed down below some of the typical applications of LED walls across industries:
Concert Halls. Concerts are one of the most colorful and energetic events there are. LED-wall displays are often used during shows because they help engage the crowd and get involved in the event. The colorful and bright projection display also adds to the energy and liveliness of the said event.
Airports. Airports are one of the most visited places in every country both by locals and foreign guests. LED screen walls are perfect for advertising content in these areas. It does marketing and displaying visual content in a charming, appealing, and modern way. LED wallboards allow you to get rid of messy-looking posters and printer flyers.
Universities. Some schools and universities now utilize LED walls for their Public Services Announcements and creative audiovisual displays for the students and guests.
TV Stations. TV stations use LED walls to deliver news and features more effectively and successfully. It allows them to be more efficient and creative in informing their audience.
Trade Shows. LED walls are highly effective in showcasing products and items during trade shows. It makes the event more exciting. You can make your attendees in awe by producing an imaginative and intelligent screen.
You can also find digital LED walls helpful in casinos, hotels, restaurants, and shopping malls.
LED walls can serve you for a variety of purposes. You can find it helpful almost everywhere you decide to put it.
3. What Are The Benefits Of Using LED Walls?
If you are thinking of investing in an LED wall for your store, office building, or event's place, we provide you with the benefits you can get when using an LED wall. This list aims to convince you that an HD LED division is a worthwhile investment.
Superior Performance. LED walls contain thousands of energy-saving LED lights to ensure that you will deliver a high-quality visual display that will surely impress and entertain your audience. It has a wide viewing angle, a high refresh rate and offers reduced reflections.
Durable and Long Lasting. LED display wall panels are more durable than the traditional projector. We ensured that the materials used, both inside and outside each LED screen panel, were top-quality. If you are worried about the higher upfront cost of an LED wall, you have to remember that an LED wall lasts a lot longer than a projector. Therefore, it is a wiser investment in the long run. It is money-saving over time.
Easy Management Features. The LED wall displays offer intelligent features for easy management. It allows you to schedule playing your visual presentations. It has many connectivity options that let you control the unit, even with your mobile device.  Changing content is as easy as changing the wallpaper of your cell phone. You can even manage your LED wall remotely.
Creative Set Up Options. LED walls can be mounted on the wall, behind your window, or your building facades. Many architects now include LED wall screen setups for offices and interior and exterior design as part of their design.
4. What Is The Size Of The LED Wall? Is It Customizable?
The LED wall can vary in size. Again, LED walls are modular and scalable to any size that will match your needs and requirements.
We can customize the size of your LED wall according to your display needs. If you want a more giant LED wall, your provider will require more LED panels. It will cost a little more, but it is indeed possible.
Are you worried that you do not have enough room for an LED display? Do not worry because you can have a smaller LED wall. LED walls produce bright light and picture display. So even if you prefer a smaller LED wall, you can still deliver an eye-catching digital display for your audience.
You may send us a message on our website for your LED wall needs and tell us about your requirements.
We will custom-make your LED wall according to your needs.
5. How Does An LED Wall Work?
LED-wall works by combining several LED screens panels to create a wall-sized LED display. Once connected, the screens are configured to function as one LED wall unit.
Each LED wall system has a video processor and a video distributor, allowing the transfer and display of media content from your computer or devices to your LED wall.
An LED wall system sample may include a computer or video equipment connected to your LED wall unit. The connected computer via the processor allows you to control and manage the content on your big screen.
Most LED walls also have a light sensor. The light sensor is responsible for adjusting the screen brightness depending on the lighting condition or intensity of the surrounding.
Additionally, there is software that you need to download for screen and content management. Once installed, your computer or device will serve as the remote controller for your LED wall unit.
Another good thing about the LED wall, it supports all major content file formats. So, you do not have to worry about not playing your ready-made visual media content.
6. What Forms Of Content Are Supported By LED Walls For Display?
We are happy to tell you that an LED wall display supports all media content.
From simple text to intricate animations, all are suitable for displaying on your led wall screen display, indoor and outdoor.
These content forms include:
Text. If you want to inform your audience about something or deliver a severe public service announcement, you can do that using your LED wall. Having clear messages is one of the most basic functions of the LED wall.
Pictures. If you want to advertise a product or item, you can do that on an LED wall with flying colors. Because of the advanced LED technology used in LED walls, your displayed images will have rich, life-like colors that will surely captivate the eyes of your audience.
Videos. If you wish to play a short ad commercial or video clip, you can also do that on your LED wall. Its massive size, bright colors, and HD quality will make your video content appealing to the end-users.
Multimedia Content. You can combine all the contents mentioned above and play it all at once. LED-wall display allows you to showcase many different ranges simultaneously or successively.
7. How Much Does An LED Wall Cost?
The cost of an LED wall display is directly proportional to the size of the LED wall. Each LED wall is composed of several LED panels.
A giant LED wall requires more pieces of LED panels. Hence, the cost price also increases.
The LED panel wall price also varies depending on the pixel pitch of the screen. Cheaper LED wall panels have higher pixel pitch and vice versa.
If you plan to venture into an LED wall display project, you may tell us about it, and we will help you choose the best LED panels and sizes for your needs.
You may also request a price quote. Just send us a message on our website, or you may email us at manager@yuchip.com.
8. What Are Things You Should Consider When Purchasing An LED Wall Display?
Thinking of purchasing or renting LED screen panels for your LED wall? Here is a quick list of the considerations that you might want to look into to guide you in choosing the right LED wall products for you:
LED Screen Dimension. This is the very first thing that you need to decide on. How big do you want your LED wall? The size of your LED wall is the number one (1) factor that affects the price of your LED wall. It is common knowledge that a more extensive LED wall contains more LED screen panels. And more LED panels mean a bigger budget is needed.
LED-Wall Viewing Distance. How far will your viewers be from the LED wall? The distance of your audience will determine the suitable pixel pitch for your digital display. A smaller pixel pitch is recommended for closer viewing. A larger pixel pitch is ideal for farther distance viewing.
How and where do you want your LED wall to install? Different installation styles require various installation tools and equipment. It is important to be communicated to your LED wall provider to recommend the right LED panels and be ready with needed materials.
Special Request. Suppose you have a special request for your LED wall; it is best to inform your provider about it as early as possible. LED walls are custom-made, and each LED wall is unique from one another.