Trade Show LED Display
Trade Show LED Displays are LED screens promodiser, companies and businesses use when they launch their product.
It can be a customized LED Display with your preferred pixel pitch.
Trade Show LED Screens can be an LED poster, a customized indoor display, a creative or sphere display, a flexible one with a concave or convex structure, or an outdoor rental LED panel.
It may also vary in size such as small, average size, and large for wider viewing, so if you're in big trade shows, you'll be able to engage your viewers even more.
Trade Show LED Display Product Categories
One essential thing in product launches, trade shows, exhibitions, and indoor advertising is that you need your viewers to be captivated by your product and presentation. The overall presentation should be an integration of your companies core values and goals.
The content alone might bore your viewers and would not give you an all-out and outstanding intuition. Here are few products you can utilize to impress your customers.
Indoor rental LED display has higher brightness than LCD and is perfect for closer viewing. Its high contrast ratio and high refresh rate bring a better viewing experience.
A flexible display allows you to create various creative shapes with its super soft module and panel. Be it round or curves, inward or outward, a flexible screen can stand.
Outdoor rental LED display has waterproof and dustproof properties, so if the trade show is outside; needless to worry about uncertain weather and temperature.
Impress Your Customers And Viewers
It is crucial and significant to create an open way towards your customers in business and product launches. The real deal comes with helping your target audience identify you and your brand and remember it.
Exhibitions, product launches, and trade shows are important milestones in business; that's why you need to leave a positive impression on your prospect audiences and clients.
A trade show display will surely give you an outstanding digital presentation, either hanging or through a standing installation.
The booth LED display may come in various sizes, resolutions, and installations.
Customize Your Trade Show LED Display
YUCHIP Exhibition Video Walls have a perfect view and high-resolution display, you can choose from our indoor rental, outdoor rental, flexible, LED posters and transparent LED display collections.
We have various pixel pitches where you can choose from; ranging from indoor rentals (P2.5 to P10), outdoor rentals (P4 to P20), flexible screens, transparent LED display, etc.
We customize your choice; size, parameters, pixel pitch, installation, etc.
Our after-sales service includes visitation, online and technical support; we'll provide you and guide you with maintenance and installation.
YUCHIP:

Your Professional Trade Show LED Display Manufacturer And Supplier

YUCHIP is China's leading company in manufacturing and exporting LED screens for various usage, including LED displays for trade shows. Founded in 2004, we have expertise in giving you the best choices and best-quality products for your business-related plans.

Our digitalized and updated technology, perfected by our production and manufacturing team, designs the unique booth LED displays for your specific project needs—for example, exhibitions, product launches, outdoor and indoor brand promotion, etc.
Our Factory
Trade Show LED Display Related Videos
Trade Show LED Display Latest Catalog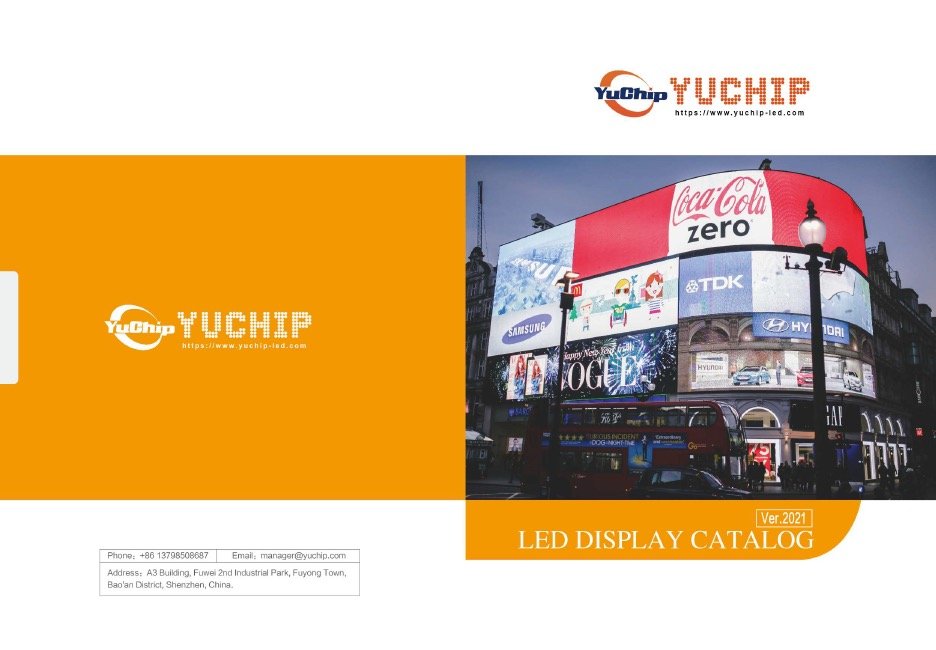 Trade Show LED Display: YUCHIP Guide
1. What Are Trade Shows?
Trade shows, also known as trade affairs, exhibitions, or exposure, are held to bring different brands and businesses of a particular industry to demonstrate and promote their latest products offered. This event also serves as an opportunity for all participants to meet and interact with customers and various industry partners.
It is an event dedicated to introducing recent market trends and services to the target audience. Major trade usually shows last for several days and is joined by several different companies in hopes of building new or better connections with prospects, dealers, and distributors.
Typically, for any business's participation in a trade show to be considered successful, it must return from a show with a new set of prospective buyers or clients, (bulk) orders, and connections.
Hence, almost every company that joins this kind of business affair comes up with its gimmick to catch attention and lure attendees into checking their stuff.
2. What Are Trade Show LED Displays?
Trade show LED displays are digital booth displays used by companies to increase visibility as they showcase their newest products.
When you are placed side by side with many competitors, you would want to step up your game and incorporate many strategies to get people's attention and visit your booth. And LED screen displays are the most used tools in trade shows to boost one's trade show sales.
Playing engaging and informative video displays is one of the best ways to communicate with your target customers. It allows you to deliver your message creatively and, at the same time, draw people into your designated location. It is so rare for any booth display not to have video screens. The best trade show booths always have at least one of these.
Exhibition video walls are more than just LED monitors that show various contents. They make people and attendees remember you and your presentation. Because when it comes to participating in trade shows, it is not enough to only have the best products or a large booth. You will need to incorporate other creative solutions to help people remember you and your brand even at the most crowded and busiest trade shows.
3. What Are The Different Types Of Trade Show LED Display Solutions?
Trade shows are great opportunities for many businesses to make an impact and build product awareness. Here's how you can apply trade show video displays to make a statement, attract the attention of many viewers, and stand out from the competition:
Large Format Video Walls. LED video walls for trade shows are now staples of many major trade shows and exhibitions. This trade show display solution is used accordingly to provide customers with informative and visually stunning video presentations about your product. It offers high resolution and crystal-clear imaging. They are typically mounted on the walls, hung from the ceilings, or used as the stage background.
LED Screen Standee. We understand that sometimes aerial LED screens and video walls are not feasible for small venues, or sometimes companies want to have an advertising standee near their booths. For this case, a range of LED screen standees is available. This display solution allows you to feature products and information by simply uploading video content quickly. It is way lighter, portable, and easily movable.
Trade Booth Banners. If you are tight with the budget but still want to make sure trade show stands or builders draw attention from the participants, you may incorporate LED banners in your design. LED banners are a simple digital display solution to use, install, and adapt to the sale point. They can make your booth visible enough to get noticed by displaying text and messages in bright colors.
Creative Trade Show Displays. If you want to go way extra with your digital displays in your trade show, you may opt to have a customized LED screen booth display. Huge trade show companies often choose out-of-this-world LED displays that are massive in size and has irregular forms to ensure success in their product exhibition. One example of this is a 360º aerial LED display.
4. What Are The Advantages Of LED Video Displays In Trade Shows?
The advantages of incorporating LED video display at a trade show:
It captures and draws attention

. To have an eye-catching exhibition stand or booth is the goal of every company as they participate in expos. You can rent or buy a wide range of LED screens for trade shows to realize this goal. You have to remember that the overall design of the venue, your booth, and your display are the first thing the customer notices.

It engages the audience

. An interactive LED video wall for a trade show, for example, is a powerful tool in capturing the audience's interest and maintaining or keeping it. It keeps the audience entertained and involved. Creative visual displays contribute to a great extent to the audience's overall experience. This experience can translate to higher sales and bigger deals.

It helps in creating a lasting impression

. This lasting impression can be good or bad. But, of course, we aim for the good one. If you want to impress new connections, clients, distributors, and even your rivals, utilizing creative and custom-made LED displays in your booth will securely make your brand the star of the night, which, for sure, everyone will remember.

It gives your booth/exhibition an expensive and classy look

. What other way can you make a trade show more sophisticated than by incorporating the newest of the new display technology?
5. What Kind Of LED Screen Displays For Trade Shows Do You Have For Rent?
YUCHIP offers rental LED displays for trade shows, exhibit events, meetings, and other business and social affairs. From small to large-format LED displays, we have everything you need.
LED posters, LED video walls, customized LED displays, indoor/outdoor transparent LED screens, etc.- we have it all for you. Our LED rental LED displays can help you deliver a one-of-a-kind video display experience for your target market.
We can install our rental LED screens in hanging installation and standing displays. They come in a flight cage package for secure and convenient movement from one site to another, so your LED displays are set up for a limited amount of time.
YUCHIP rental LED screens have a unique design and slim cabinet that brings a friendly and trendy appearance. There is also a wide range of pixel pitch options you can choose from depending on which is suitable for your trade show needs and requirements.
6. Why Should I Choose YUCHIP?
YUCHIP is one of the most trusted names in China when it comes to providing LED display solutions. We have been helping clients worldwide realize their LED display projects since 2004.
We manufacture and offer LED products of high quality and pass international standards. Our products undergo strict quality screening and testing before sending them out. We also provide a warranty for your protection.
YUCHIP's team of experts and professionals will guide you from conceptualizing your project and choosing the right LED displays for you until completing your LED project.
Send us a message today to learn more, and we will get back to you at the soonest time possible.