Transportation LED Screen
Transportation LED Screen are LED displays you install in various transport terminals, carports, airports, train stations, etc.
Transportation LED screens can either be indoor, outdoor, or transparent LED displays.
We customize your LED display project, especially if there's limited space available in its installation or location.
Transportation LED screens bring a friendlier ambiance in a terminal, airport, carports, bus terminals, and train stations.
Transportation LED Screen Product Categories
It is essential to set a secure and comfortable feeling in a public transport area. While people are busy and rushing through the day, a transportation LED screen can help them go through and have some entertainment through watching various content and advertising in a train station advertising display.
A train station advertising display also helps everyone get updates about the train's arrival, the schedule of trains and flights, fare updates, and other vital and quick information.
For indoor installation such as inside train stations, airports waiting-lounges, or lobbies, an indoor LED display has clear visuals, high resolution, and true-color features. It'll give you some short-time relaxation while waiting for your flight schedule or trains' arrival.
A transparent display is not only popular among shopping malls, but it is also best and suits in transportation areas such as train stations, bus terminals, airports, carports. It can display various updates such as traffic, fare updates and weather reports, etc.
With a waterproof design, an outdoor display can withstand rain or shine conditions; perfect for outdoor viewing, it can share various quick guides such as change routes, emergency advice, a weather bulletin, advertisements, traffic updates, etc.
Advertise In Transport Stations/ Airports And Trains
While waiting, you can always give passengers a comfortable time given the rush and hustle of the day or night.
With a transportation LED screen can display various advertising content, animations. You can also show information guides, travel hacks that passengers can learn alongside traveling.
During canceled flights, watching advertisements is one way to ease struggling passengers brought by delays. With an LED display, traveling can still be fun in some uncertain circumstances.
Customize Your Transportation LED Screen
Our R & D team will help you choose the best transportation LED screen for your project, be it for airports, train stations, bus terminals, carports, etc.
If your project has limited space available, we will help you by customizing the size to fit perfectly.
Transportation LED screen has a wide pixel pitch range. For indoor installation, we have from P0.9, P1.25, P1,5, P2, P2.5 LED to P4; outdoor P2.5, P3, P4, P5 LED panel to P20, transparent display; P4 to P10. Also, we can customize your desired pixel pitch.
Our products come with a 3-year warranty, and YUCHIP provides all-out technical support and visitation with your LED project.
YUCHIP:

Your Professional Transportation LED Screen Provider

YUCHIP has 16 years of experience in manufacturing and exporting LED displays, products, and solutions to various sectors in society. It includes advertising firms, brand promoters, merchandising businesses, local individuals, event organizers, huge airlines, and other transport areas.

We conquer to deliver quality pieces of our product in outstanding performance and stability, exceptional designs, complementing parameters, and high resolutions. We have helped various transportation terminals and airports achieve a unique and classy atmosphere perfected by fit installation, sizes, and clear visuals.
Our Factory
Transportation LED Screen Related Videos
Transportation LED Screen Latest Catalog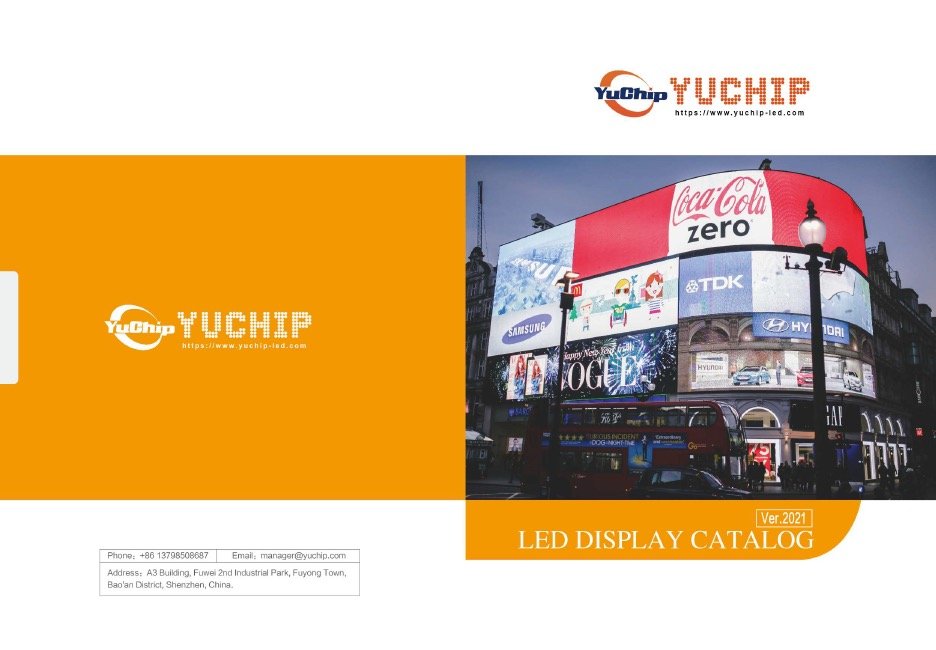 Transportation LED Screen: What You Need To Know
1. Introduction
The transportation sector is an industry that deals with the movement of people, goods, infrastructure equipment, cargo, and the likes from one place to another.
It is an essential part of any nation and the world's economy. When the transport industry is crippled, it will paralyze the economy.
Many claims that the transportation system of one's country reflects how progressive a country is. A modern and comprehensive transport system includes airports, bus and railway stations, subways, etc. Over the years, these hubs have to evolve to keep up with the fast-paced world we live in and, of course, meet the growing and changing needs and expectations of passengers.
As the world goes digital, this sector also has to go digital. Creative yet practical LED display solutions play a vital role in making any transportation area functional and traveler-friendly these days.
2. What Is A Transport LED Display Solution?
A transport LED display solution uses digital LED signages to disseminate necessary traffic information, policies and guidelines, and arrival/departure schedules for passengers' benefit.
These ultra-high-definition LED screens are a very effective channel for communicating emergency and urgent messages with commuters. Not just that, LED signages have been utilized worldwide to do more than inform the people. These signages are also helpful in creating a modern and exciting ambiance that can make hurried, exhausted, and anxious passengers amused and entertained while waiting and traveling.
Other reasons why there is a rapidly growing demand for transportation LED screens are: that they are low-cost, easy to manage, easy to use, and energy-saving compared to other digital and light displays available in the market.
Transportation LED screens offer a remarkable visual display that cannot be easily affected by external factors such as sunlight, dust, and a big crowd. They are also reliable for 24/7 operations, keeping every transportation area up and running.
3. What Are The Functions And Uses Of LED Transport Display?
Digital Signages have been part of the transportation sector for a long time now.
The following are some of the main functions of LED display in transportation:
It informs all the passengers. LED screens are a beneficial tool in keeping everyone at the station, terminal, or airport informed. LED screens are the fastest and easiest way to send messages as these screens are easy to install anywhere and are easy to spot.
It is an excellent wayfinding solution

. Aside from giving passengers flight information, the LED screen can be utilized as a wayfinding screen to help passengers know where they should be going. Also, it optimizes the passengers' flow and traffic inside the venue. It gives them directions like where are the gates, baggage counters, and other amenities.

It increases revenue streams

. LED screens with high-resolution displays deliver advertisements more effectively. It is an eye-catching display technology that is ideal for attracting and captivating audience attention.

It entertains the audience

. Many airports and terminals install LED video walls to deliver an audio-visual display that passengers can enjoy.
4. What Are The Different Applications Of Transportation LED Screens?
The LED display in airports is one of the first LED screen applications in the transportation industry. However, these are now widely used in almost every station and terminal worldwide.
Coming to new places can always be tricky. The signages are strategically positioned in the exact locations to guide the passengers properly.
Here are the typical applications of LED screen displays in transportation:
Airport
Airport Flight Information board

. A large LED screen is found inside or at the center of any airport, informing the passengers about their flight details such as departure and arrival, boarding gates, etc. It is almost required for any airport to have this flight information display screen.

Advertising LED Screens

. An airport is a place where thousands of people go and wait. Consequently, they become an ideal place for advertisers and brands to promote their products and services. Somehow, when tastefully done, these creative digital airport advertising displays help ease the commuters' boredom and anxiety.

Airport Control Room LED Display

. The large LED screen is for monitoring the airport's operations and the security of every passenger. Having high-resolution video surveillance is critical in this highly intricate job.
Train/Railway Station
Railway Station Display Boards

. This train station and railway display function the same as the airport information board. It keeps the commuter informed about the train's arrival, departure, and destination schedule.

Railway/Train Station Billboard Advertising Screen

. Any place with a crowd is a perfect spot to promote your business. That is why LED advertising screens in train stations are also rampant.
Bus Stop and Stations
LED Bus Screens

. Many buses nowadays have LED signs that display the destination of each bus. It helps the commuters to locate their ride with no trouble. It lessens confusion at the passenger end, and it makes loading faster.

Bus Station LED Display

. This LED screen is installed at every bus station to disseminate trip-related information. It is a fast and convenient way to update the passengers.

Bus Stop Advertising Screens

. Bus stop posters are now being replaced with LED displays that are more noticeable and add light to the bus shelter, especially at night. The typical bus stop movie posters are now dynamic displays that produce visually stunning graphic effects and audio sounds.
Subways
Subways are other transportation hubs adorned with LED screens that guide commuters' everyday journeys.
Other applications of LED signages in transport terminals and venues are:
Digital clocks

Outdoor LED banners and signs

Booth signages

On-vehicle LED displays for airplanes, buses, and trains

Digital traffic signs

Digital kiosk and touch display

Warning LED signs

Welcome LED display

LED displays for enhancing architectural and spatial design
5. Where Can I Buy High-Quality Transport LED Screens in China?
You are in the right place if you have a transport LED display project that you want to start soon and are looking for a well-reputed and reliable LED provider in China.
YUCHIP provides customized solutions for various LED applications needed in the transport industry. We offer top-notch display technology and high-performing LED products with excellent technical support and customer service.
LED solutions can be adapted to specific configurations and integrated into your venue's interior architectural design so they can leave a more impactful and lasting impression.
Furthermore, our team of skilled specialists uses state-of-the-art techniques and equipment in manufacturing our LED video screens to guarantee that you get the best quality transport LED solutions.
We can help you make any transport terminal and airport decorated with world-class LED displays that will make it stand out. YUCHIP will provide all the necessary guidance and management tools that you will need for operating the LED signages and billboards
We are committed to helping you obtain more stable and effective communication, entertainment, and advertisement operations inside and outside the transport venue you manage.
Contact us today to learn more about offered LED products and services.
6. Conclusion
LED display technology has been a great help in achieving the kind of transport hubs we have today.
The high-resolution LED screen displays have become truly useful in the transport sector as travelers' volume, and shipments grow dramatically.
Busy, crowded, and sizable terminals and airports can be overwhelming to many passengers.
The vivid, easy-to-spot, and sometimes clever LED signages and displays provide the passenger the guidance and information they need, which help relieve their stress and confusion.