Having questions about the dos and don'ts for your wedding are entirely typical. Every couple wishes to have an unforgettable celebration. And nowadays, weddings are more entertaining than ever, so if you are considering adding a wedding LED screen but have some doubts, we are here to help.
What Is A Wedding LED Screen?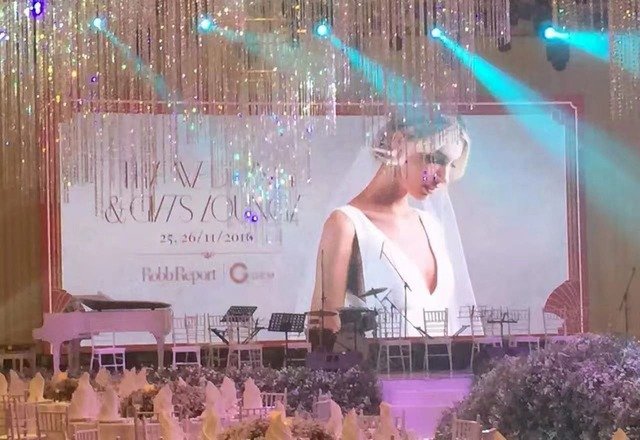 First things first, you might be wondering if a LED screen for your wedding would mean you will have some flat screens here and there just like the one at home, right? Well, in some way, yes, because they share the same technology, but wedding LED screens are built to serve their higher purpose of making your event one of a kind.
A wedding LED screen is an element that transforms your wedding venue with customizable sizes and different light temperatures to fit your style. They are suitable indoors and outdoors; imagine how wonderful your outdoor ceremony might look if you have your favorite landscape playing on repeat. Or how about a flowing image through your wedding reception? A wedding LED screen is simply the best tool you can use as a wow factor for your celebration.
Benefits Of Installing An LED Screen Backdrop For Wedding
LED screens are amazing to personalize a wedding; through them, you can create moving and flowing backdrops, illuminated stages, and many more unique experiences for the couple and guests. Installing a wedding LED screen can be the best option to differentiate a wedding venue from others. If you are doubting about installing a wedding LED screen, here are some benefits you acquire when you do it.
When you visit wedding venues, you often feel trapped in their current style without having many options to make significant changes, and if the vibe doesn't fit your needs, then you could visit every single venue in town without any luck. But wedding LED screens can solve many of those issues; if you want a starlit ceiling, walls, or backdrop, no problem. No problem if you wish to bring a beach vibe inside your venue. Because wedding LED screens are here to complement your vision.
Personalization is essential for many couples who want to have custom-made initials for their whole wedding, from invitations to illumination. And what better way to include it through your wedding than with some excellent LED screens? Perhaps you can install them as an interactive seating chart to welcome your guests or light up your stage and dancefloor.
Out-of-this-world Weddings
What if you want an extraordinary experience? Perhaps you are a massive fan of science fiction sagas and wish to find a wedding venue to suit your needs. If the perfect one doesn't come along, you can turn any regular space into another universe by adding a couple of LED screens with your favorite scenes and backgrounds.
What Are The Different Types Of LED Screens For Wedding?
When you want to add some fantastic images to your wedding but have a reduced space or need to use a window, there is always the possibility to install transparent LED screens. They are beautiful and serve the purpose of showing your content without blocking visibility.
Ideal for unusual spaces where you want to maintain the lines of the structure, flexible LED screens adapt to any shape and place. You can quickly turn columns into art pieces and create flowing environments inside any wedding venue.
Although they seem the same, one big difference between indoor and outdoor screens is their brightness. When you catch the sun outdoors, it could be hard to see the image from an indoor LED screen. That is why they are built brighter and from weather-resistant materials.
Where Is It Used?
Our question would be, where aren't they used? They are a great way to interact with your guests, welcome them, and even provide fantastic décor for your wedding reception and ceremony. But if you are having trouble picturing them on your big day, here are some of our favorite ways to use them.
You can set them covering your main visual wall, perhaps the one behind your honor table. It will draw everyone's attention and serve as a statement piece of decoration. Or how about making your big entrance as newlyweds while a wall of LED screens opens in the middle, and you enter triumphantly? Lastly, we love how LED screens work as part of your entertainment. For example, you can set them up as a stage or dancefloor and match the party's energy with outstanding visuals.
How To Choose A Wedding LED Screen?
Know your space and needs.
Before choosing a wedding LED screen, you must consider one of the essential elements. You want your screens to be as visible as possible. Find out if you can set them up exactly where you need them, measure the space, and think about the flow of your event. Is it a prominent spot, or would it be hidden?
Consider your wedding décor and theme.
Perhaps you are going for a classic wedding with many traditional hints, and then it could be awkward to fill the space with LED screens, right? Well, our advice is to find the screens that fit your style, remember, there are plenty of sizes and types to choose from.
Finally, let's face it, budget plays a significant role in wedding planning, so if you are trying to add LED screens to the mix, you must look for budget-friendly options that offer you high quality.
Why Choose YUCHIP?
Since 2004 we have been an award-winning company with a global presence, exporting to over 100 countries. Our experience made us an industry-leading manufacturer with top of notch service and exceeded certifications. Our capabilities allow us to customize LED screens to fit your needs of size, shape, and pixel pitch regardless of your application. We offer you solutions and make your buying experience easy.
Weddings are unique moments in life, shared with those we treasure in our hearts, and the perfect opportunity to provide a unique experience to every guest. Wedding LED screens are the ideal way to turn a regular wedding into an unforgettable memory. Make that dream a reality by inquiring today, and we can answer any question and find the right product for your needs.